Usually, Livorno is used as a "passageway" for more famous and popular destinations; the port welcomes a lot of cruise ships, ferries and large groups of people every day who move from here to reach their final destination ... but before leaving this appealing city, you need to visit the centro storico , the stunning waterfront with its beautiful restaurants. Try Livorno's excellent cuisine and gien its particular city lay-out of bridges and canals, take a leisurely walk through its streets and lanes.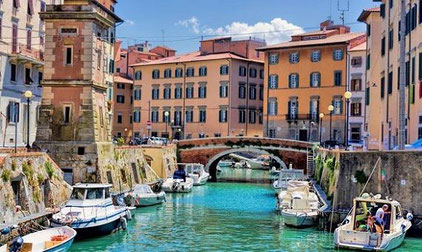 Located on the west coast of central Italy, just south of Pisa, Livorno is one of Tuscany's economic hubs. It is known for its massive, modern seaport and medieval-era fortifications, and as a destination for freshly caught seafood. There are other appealing reasons to visit Livorno, including a lovely system of beautiful waterways, the historic and contemporary museums, and an lively nightlife. Many visitors arrive by cruise ship and consider Livorno just as a stopover, but we recommend to experience the charms of this lesser-known Italian coastal city.
During the Renaissance era, defensive bastions dotted the coastline of the Italian peninsula, from Sicily all the way to the border with France. Built to defend the city against invasions by nearby rivals or foreign enemies, the Old Fortress (Fortezza Vecchia) faced out onto the harbor, at the entrance to the Quartiere Venezia. It was designed in a pentagonal shape to give it an imposing presence. From inside its walls, you can enjoy amazing views of the city's canals and terracotta rooftops.
The word "Fosso" is synonymous with a moat and in fact the Fosso Reale runs along the defense borders of Livorno. The canals, just like those typical of Venice, designed for irrigation and navigation, are a bit like small streets, also they became a symbol of the city. It was a monumental construction work, completed by Claudio Cogorano with the help (sadly) of about 2000 slaves and 5000 peasants. In 2002, the canals of Livorno were added to the list of UNESCO World Heritage Sites.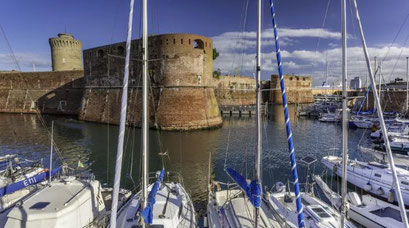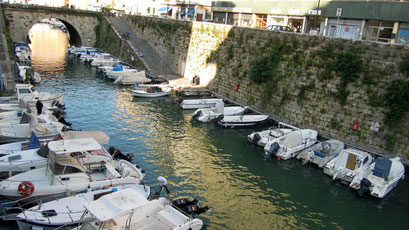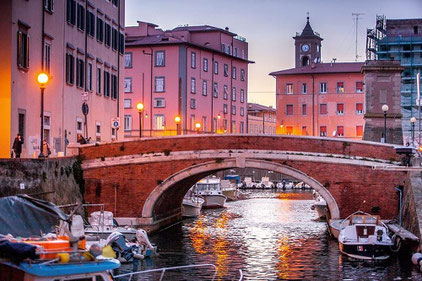 Quartiere Venezia (Venice Quarter) is a unique, 17th-century neighborhood located in the historic center of the city. It's also referred to as Venezia Nuova (New Venice), for obvious reasons. The system of canals, common in Italy during the Middle Ages, was used to move products between merchants' homes and warehouses, and even today many residents still keep boats moored outside their houses. The Effetto Venezia (Venice Effect) festival celebrates this water-bound district.The only part of Livorno that after the Second World War managed to preserve a large part of its historical and architectural monuments, among which there are several churches and palaces. Although not exactly in line with the Medici construction, it represents the true historical center of the city.
Terrazza Mascagni is a alluring waterfront promenade that s humming with activity all year-round. Paved in a black-and-white checkerboard pattern, it's lined with marble benches, restaurants, shops, and a grand gazebo. In the evening, Terrazza Mascagni is where locals and visitors, young and old, come to walk, people-watch, and to see and be seen!
The panoramic terrace that distinguishes the city of Livorno extends over what was once known as the Forte dei Cavalleggeri, a fortress complete with a tower and a large structural complex for defense. After the unification of Italy, the fortress was sold to local authorities who dismantled it - together with the tower - in 1872.
It was not until 1925, that it was transformed into a terrace with stunning views and plenty of space for concerts, walks and outdoor fun. Given its characteristic of "strategic port", Livorno suffered heavily from the effects of the Second World War.
It has been recently renovated and today is one of the most representative places in the city.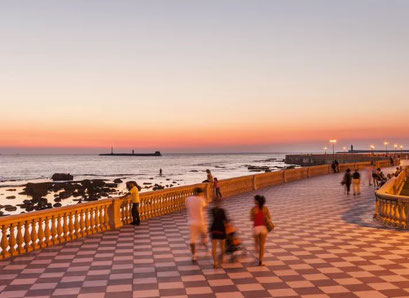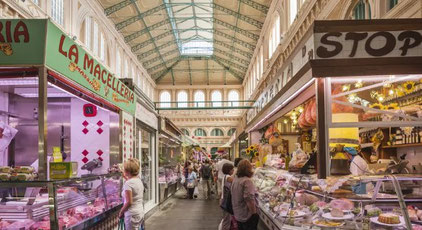 Livorno's traditional Central Market occupies a 19th-century building and houses more than 200 stalls and shops. There's a little bit of everything here, from ready-to-eat street food to the makings for a good ragu. Even if you're not grocery shopping, a spin through this lively market (closed on Sundays) offers a wonderful slice of Italian life. Livorno is, in fact, a city born with the aim of serving as a commercial port in Florence for the Medici family, but also as a first line of defense against the incursions - increasingly frequent - of pirates.
The market is probably one of the most interesting architectural structures in Livorno, built around the mid-19th century with the use of iron and glass together to create an imposing but slender structure. Inside there are 200 banquets of fish, food and more: happy hours are organized at bars and restaurants that make use of the abundant local products available on the market.
While Livorno is not a great beach town, you can still spend a day at the sea here, at one of the many bagni, or seaside complexes south of the port. For a day-use fee, you can access small sandy areas for kids to play, along with sheltered swimming areas, lounge chair and umbrella rentals, snack bars and changing facilities, such as the beautiful Bagni Pancaldi.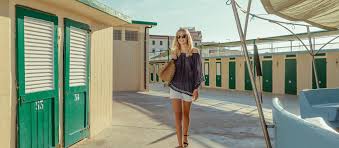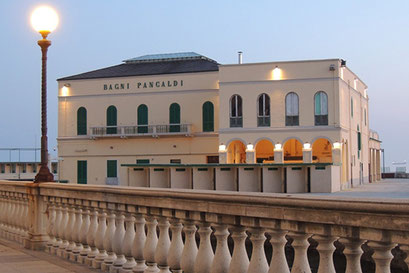 Livorno, founded on an ancient fishing village, is today the largest port city in Tuscany. Its cuisine reflects the traditions of the whole region, while maintaining the typical features of a maritime city, therefore influenced by the tastes of fishermen, traders and sailors.
Specialities from Livorno
Piadina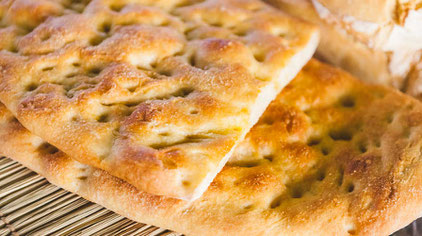 The piadina made with chickpea flour, olive oil and salt, spread throughout Tuscany, in Livorno is called schiacciata. It is particularly suitable for a snack while walking on the seafront. Generally they are simple, enriched only by a drizzle of raw oil on the top, but it is possible to find them stuffed in many different ways depending on the territory where you are tasting them. For example, in Tuscany, it is often served with the addition of chopped lard, as well as with cheese or rosemary.
Cacuicco
The real king of Livornese cuisine is cacciucco, an ancient fish soup. Local chefs say that the number of letters "c" contained in the word "caciucco" historically reflects the number of varieties of fish used in the preparation of the soup. The traditional version contains exactly five.
According to a legend, for the first time cacciucco was prepared by the widow of a deceased fisherman, with whom his companions shared the catch. For this reason this soup is rich in many species of fish. In truth, defining caciucco simply as a soup is an understatement. This dish, in fact, is full of tasty fish immersed in a dense tomato and vegetable sauce, perfumed by wine and various spices. Given the size of a single portion, the "soup" could very well replace an appetizer with both the second and the dessert.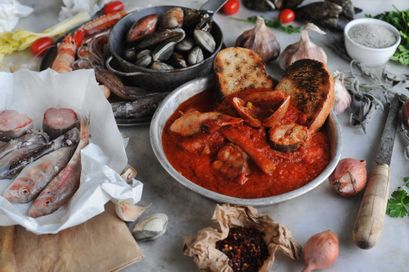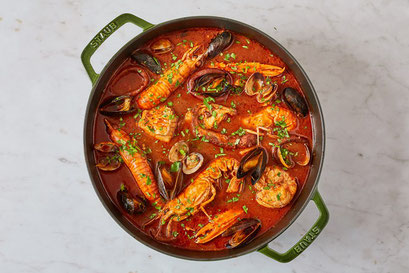 Tagliatelle alla livornese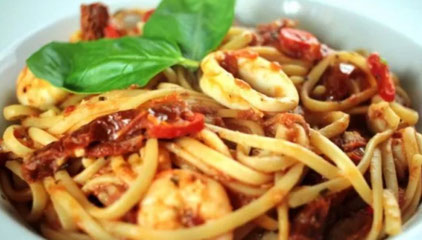 Tagliatelle alla Livornese is a famous dish, with mullet, tomato sauce, garlic and chilli pepper. A dish where all the flavor of the sea is extracted to create a simple but flavorful first course.
Dolci - Cenci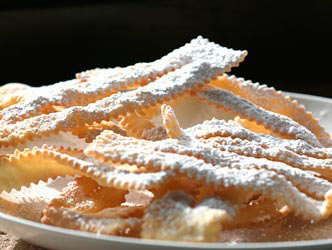 Cenci are a typical dessert of the carnival period in Livorno.
They can be eaten in all the cities of Tuscany and also in Livorno they can be found in all the pastry shops during the carnival period. These are thin sheets of fried dough and then passed through the icing sugar.
They are a perfect dessert to accompany a coffee or as a meal at the restaurant.
Restaurants in Livorno
Absolutely not to be missed are the waterfront restaurants in Livorno. Despite the sea breeze, you can warm up by having a nice glass of Livornese punch, prepared on the basis of rum with the addition of lemon zest and restricted coffee. It is believed that this was precisely the punch that the sailors drank in the local taverns, who returned from long trips. Livornese punch is served in thick glass bowls and is drunk exceptionally hot. The drink is an excellent digestive after a big meal.
When you arrive in Livorno you immediately notice something. The culinary culture of the city pervades every street in the center. The presence of the port a few steps from the historic center of Livorno means that the gastronomic culture in the city is always alive and sparkling. In Livorno you eat a lot of fresh fish, but not only. The culinary culture of the city is truly vast. Whether you go to the Ristorante Osteria Del Mare or Ristorante Oscar, for sure you'll eat some of the best seafood in a beautiful setting.
Famous people of Livorno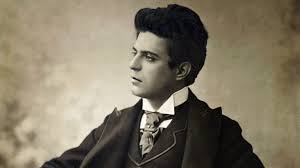 Pietro Mascagni (7 December 1863 – 2 August 1945) was an Italian composer primarily known for his operas. His 1890 masterpiece Cavalleria rusticana caused one of the greatest sensations in opera history and single-handedly ushered in the Verismo movement in Italian dramatic music.
Amedeo Clemente Modigliani - 12 July 1884 – 24 January 1920) was an Italian Jewish painter and sculptor who worked mainly in France. He is known for portraits and nudes in a modern style characterized by elongation of faces, necks, and figures that were not received well during his lifetime but later found acceptance. Modigliani spent his youth in Italy, where he studied the art of antiquity and the Renaissance. In 1906 he moved to Paris, where he came into contact with such artists as Pablo Picasso and Constantin Brâncuși.
By 1912 Modigliani was exhibiting highly stylized sculptures with Cubists of the Section d'Or group at the Salon d'Automne.  Modigliani's oeuvre includes paintings and drawings.
From 1909 to 1914 he devoted himself mainly to sculpture. His main subject was portraits and full figures, both in the images and in the sculptures. Modigliani had little success while alive, but after his death achieved great popularity.
Doris Duranti, born Dora Durante (Livorno, April 25, 1917 - Santo Domingo, March 10, 1995), was an Italian actress, one of the leading divas of Italian cinema during the Fascist twenty years. She appeared in 43 films between 1935 and 1975.  She was also famous for her rivalry with Clara Calamai.
Having become the most admired and paid actress during the fascist regime, in 1940 Duranti met the Tuscan hierarch Alessandro Pavolini, minister of popular culture, and soon became romantically linked to him; who in 1945 was executed by Italian partisans at the fall of the fascist regime.