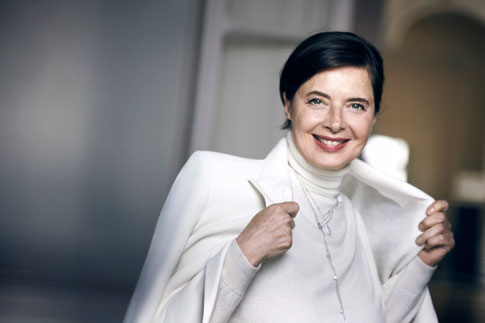 Since her modelling times when she was 27, she has been influential with her unique beauty and not conforming to beauty standards at the time. When she was rehired at 63, to be an ambassador for the beauty brand Lancome, she became an inspiration to many. She is also legendary actress in movies such as "Death becomes her" and "Blue Velvet". Now 67, she is an advocate for confidence and beauty at any age. Her advice of avoiding negativity is not necessarily revolutionary, but she obviously practices that advice as well. She is not just known for her beauty, but also a stylish trendsetter in the fashion scene. 
She is the daughter of two legends, three-time Oscar-winning Swedish-born actress Ingrid Bergman and neo-realist master Italian director Roberto Rossellini.  With her heart-shaped face and bow lips, Isabella Rossellini has an inevitable—and truly blessed—resemblance to her late mother, Ingrid Bergman, the great 1940s-era actress immortalized in capital-C classics like Casablanca and Alfred Hitchcock's Notorious.
Isabella is a multi-talent from modelling, to acting to writing, and with her positiveness an inspiration to us all.