Acqua di Parma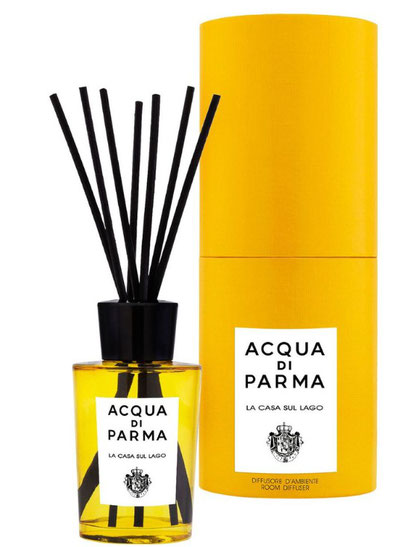 According to aromatherapy, spreading the bitter citrus notes in the home environment helps to rebalance emotions and remove tiredness.
More than the perfume we wear, the one for the home tells s lot about us. In times of forced lock-down, home fragrances help to evoke positive thoughts (we all need them a lot), relax and make the days of enclosure more pleasant.
The question is whether to combine a different aroma to each room, or opt for a single fragrance to be vaporized in the different rooms. Numerous high perfumery brands have joined the essences collections with «home fragrance» lines. Acqua di Parma's Sul Lago Room Diffuser transforms fresh air into an enchanting blend of morning dew, fresh flower petals and acquatic notes. An experience of sophisticated lightness enveloped in a soft and delicate embrace of musk. Tasting Notes: Calabrian Bergamot, Lily of the Valley, Cyclamen, Aquatic Notes, Musk, Amber.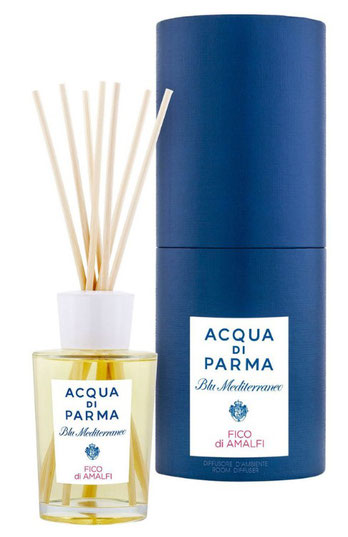 Carthusia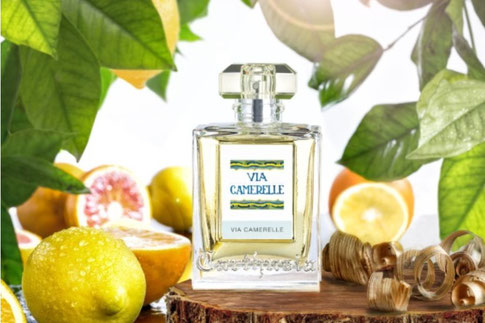 Generally in the sleeping area, the choice of home fragrances are more subtle. Fragrances with soothing properties will be preferred (to be sprayed also on the sheets or on the pillow), while in the kitchen, where smells are the masters, citrus and spicy notes will be spread like, for example, the proven mix of orange and cinnamon, sweet & aromatic at the same time.  Also promoted fresh and clean ingredients, with non-invasive olfactory notes: basil, thyme, pepper, mint. 
The home fragrances from Carthusia, the Capri-based Perfumery transport you immediatley to the isle of Capri.  One of their perfumes, Via Camerelle provokes memories of walking down this famous street on Capri. This scent shares its name with the most prestigious street of the island. A memory, an emotion, a walk in the harmony of a ray of sunshine, through blue skies and freshly picked flowers.
The floral, oriental or spicy essences are the most suitable to personalize the living room or the living area: the most cheerful environment of the house. It requires aromas capable of recreating - even just in front of the TV - the right atmosphere. Better still if in tune with the seasons. Intense notes like patchouli, sandalwood, spices or amber are suitable for autumn-winter, while in spring-summer the choice falls on exotic flowers, such as ylang-ylang and jasmine to give a touch of freshness and elegance.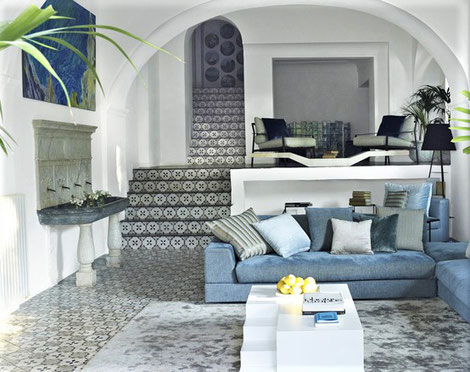 Designer Home Fragrances
Dolce & Gabbana
The Velvet Fragrances Collection of luxury scented candles was created to enhance your everyday living and entertaining experience. The gold vases are designed to complement the beauty of its surroundings and the classic shape will complement any décor. Inspired by the Renaissance period, with an explosion of gardenia and tuberose. Key fragrance notes: Gardenia, Frangipani and Tuberose.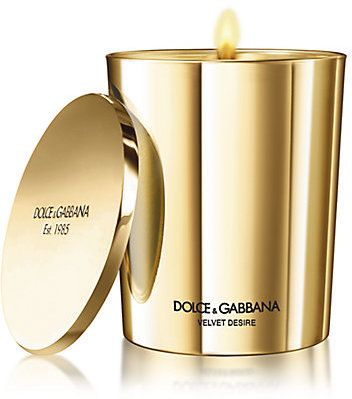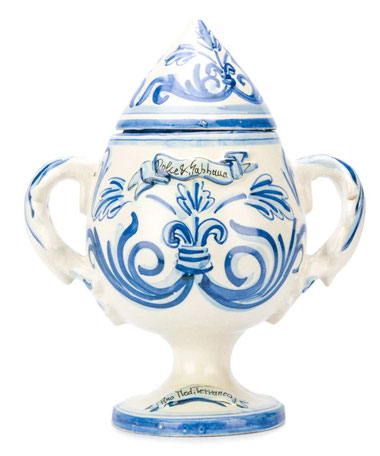 Dolce & Gabbana are known for Sicilian glamour, iconic prints and fashion for the whole family. This hand-painted white and blue Pino Mediterraneo scented candle features a lettering logo to the front, a single wick and notes of Mediterranean pine.
Gucci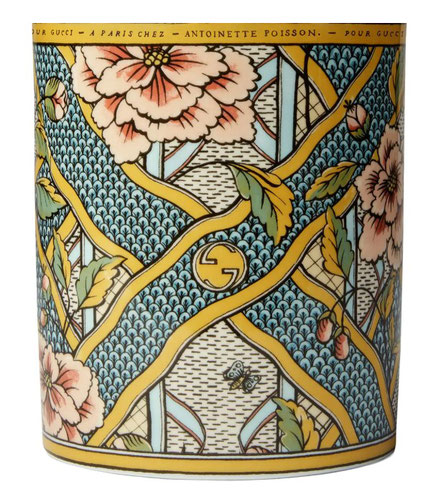 This Gucci XXL candle is presented in Richard Ginori porcelain printed with a floral motif designed by the creative trio A Paris chez Antoinette Poisson—named after the arts and wallpapers amateur Marquise de Pompadour, born Jeanne-Antoinette Poisson.
The scent, Mehen, combines aquatic ingredients such as Persian blue salt, seaweed and water moss with licorice, capturing the essence of a water snake. The name Mehen is a reference to the Egyptian deity—a coiled up snake—recalling the various depictions of the symbolic animal throughout the House narrative.
Versace
Finish an opulent dinner setting with this table candle from Versace Home. In classic Versace style, their table candle collection is adorned with the brand's most iconic prints including intricate Baroque detailing, Medusa head logos and glints of gold. As decadent as the rest of the top Italian fashion house's homeware collection, these candles are encased in the finest porcelain and topped with a ring holder lid. Emitting a light and fresh fragrance, it is the perfect greeting for guests at your next dinner party.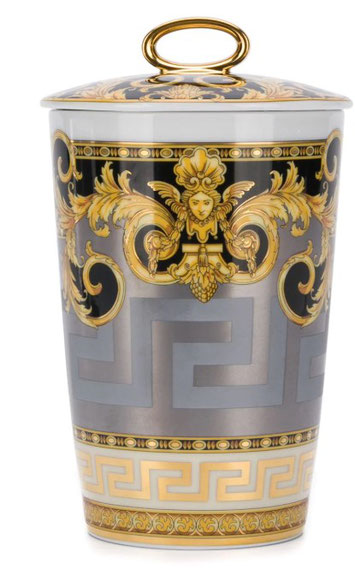 Fornasetti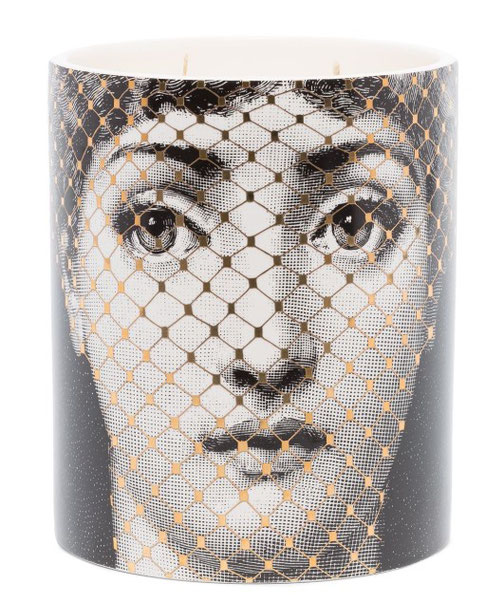 This gorgeous Golden Burlesque candle from Fornasetti adds ambience. With a decorative Lina Cavalieri printed case amid notes of thyme and lavender - this grey and gold-tone wax and porcelain Otto Golden Burlesque candle from Fornasetti is a delight for the senses. Spark up some joy this season. Featuring a single wick design, a decorative Lina Cavalieri printed case, a decorative lid and notes of thyme, lavender, cedarwood and incense. This item comes with a protective case.Your home deserves only the very best. This fragrance has been exclusively created in the home of luxury perfume, Grasse in France, and the vessel is adorned with the lips of Piero Fornasetti's favourite muse, Lina Cavalieri. Made using the highest quality oils, the distinctive Flora fragrance combines notes of ivy, lily of the valley, white rose, orange blossom, sandalwood and musk to create an uplifting white floral bouquet. Hand crafted and decorated in Italy, this fragrance diffuser fills your home with scent and style.Fragrance notes: ivy, lily of the valley, white rose, orange blossom, sandalwood, musk. 
La Perla
Fill your home with the delectable fragrance of this diffuser from La Perla. A refined and graceful embroidery of fresh and spicy notes that pays tribute to knotted lacework, this diffuser will look the part in your boudoir.
La Perla is an Italian luxury lifestyle company, founded by couturière Ada Masotti in Bologna in 1954.  La Perla is one of few historical fashion houses with a woman founder. Ada Masotti was trained as a corset-maker.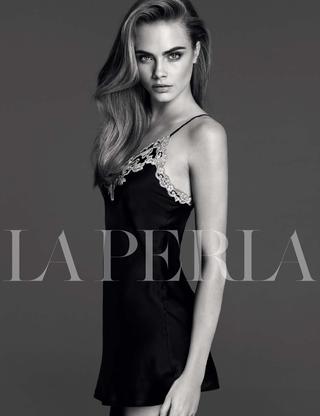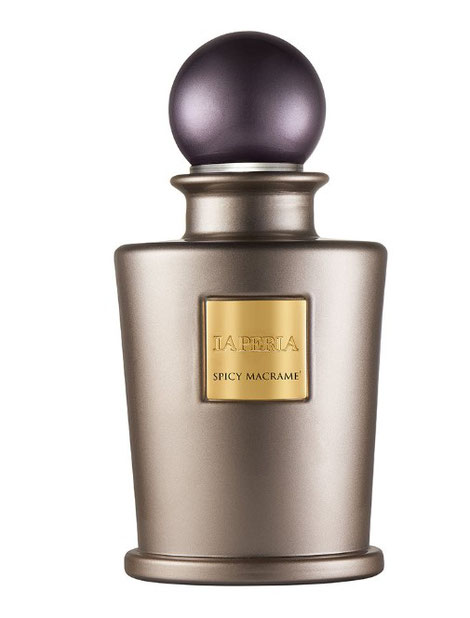 Etro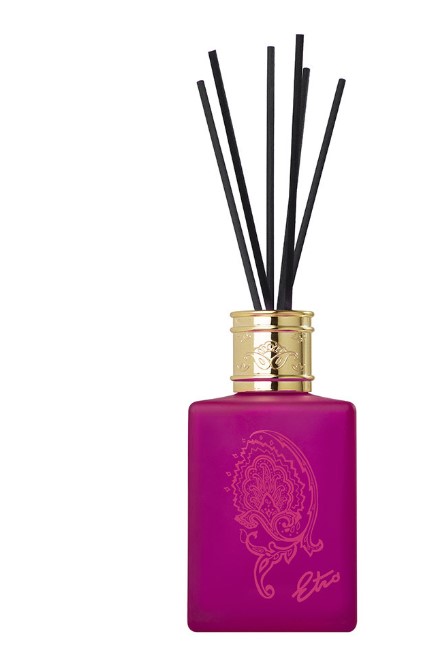 Opulent Italian design house, Etro, have taken their first steps into the world of home fragrance with four indulgent diffuser sets for the home. With indulgent scents, each diffuser includes a brightly hued glass bottle emblazoned with the brand's iconic paisley print and the Etro signature. Exquisitely perfuming the home for up to four month, the set also includes rattan reeds and a 500ml bottle of the scent all packaged in a beautiful presentation box, making it a fabulous gift or a well-deserved treat for yourself.