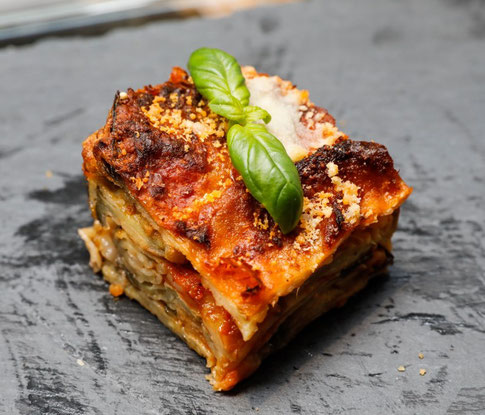 Why not try this scrumptious recipe from Michelin-Star Chef Antonino Cannavacciulo for La Parmigiana? With this recipe he maintain the Neapolitan tradition but add his secret touch.
This dish is a must for Neapolitans and is often eaten as a main dish or Secondo or as a side dish on a Neapolitan Sunday. His secret is to use buffalo mozzarella which is hardened in the fridge prior using it with the parmesan.
La parmigiana di melanzane is one of the classic preparations of southern Italy. It is a preparation associated with the cooking of Naples, but it is popular in the Campanian countryside and Calabria and Sicily too. 
In terms of its origin,the most obvious is that the name of the dish derives from parmigiano cheese. Many food writers have voiced suspicion of this explanation because parmigiano is not native to Naples or other regions of southern Italy where eggplant Parmesan is found. They argue that, in fact, the dish originates in Parma in northern Italy, because either Parmesan refers to the city of Parma (which it does) or because the Parmesan cheese is from Parma. Whatever the origin, this is one of the most popular and delicious dishes in Italy!
Recipe - Antonino Cannavacciuolo - La Parmigiana
Ingredients:
2 Aubergines; fresh tomato sauce 500 g; buffalo mozzarella 200 g (out of the fridge); grated parmesan 80 g;  half small white onion; 30 g of "OO" flour; 4 medium eggs; a bunch of basil; extra virgin olive oil; salt and pepper.
Preparation:
Finely chop the onion and fry together with the extra virgin olive oil for a few minutes, also adding the passata and basil. Let it cook for 20 minutes, seasoning with salt and pepper.
Wash the aubergines, peel and slice them, making the slices about 4-5mm thick. After that put the flour in a paper bag, and dip the aubergines and shake it moderately.
In a pan, heat the peanut oil. We beat the egges and pour them over the eggplant. We then strain the excess and fry until golden brown. Dry the aubergines on a paper towl after the frying, and add salt while they are still hot.
On a baking tray lined with parchment paper, we place 4 round pastry rings of 8cm in diameter and fil in layers with aubergine slices, tomato sauce, frayed buffalo mozzarella, basil and grates Parmesan.
Bake everything at 200 degrees, until a crispy crust forms on the surface.
If you want to taste Antonino Cannavacciuolo's cuisine live, why not visit one of his restaurants such as 
Cannavacciuolo Café & Bistrot in Novara.