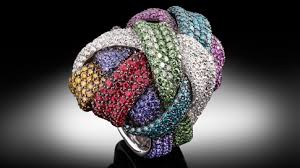 Carlo Palmiero is the driving force behind one of the most gorgeous Italian jewellery brands, Palmiero Jewellery Design, based out of Valenza. Palmiero combines fantasy with deep technical insight. The rules of creating true high-end jewellery are always been fully embraced by Palmiero. The jewellery feels solid and very comfortable to wear. Most pieces created by Palmiero Jewellery Design are inspired by the natural beauty of the world, well reflected by the famous underwater world-inspired collection.
For the new Palmiero Cinema watch collection, Carlo Palmiero has combined natural beauty with the glamour of cinematography and dedicated the line to world-famous movie stars like Ingrid Bergman, Audrey Hepburn and Grace Kelly. Palmiero wanted to celebrate their talent through these amazing bejewelled watches.  Distinguished by their gorgeous elegance, the collection consists of three models named in honour of Grace Kelly, Audrey Hephurn and Ingrid Bergman. Precious dials are made in three different colour variations of gemstones: white diamonds, pink sapphires and blue sapphires with green diamonds preserved under the sapphire crystal. The watch bracelets come in monochrome colours – black silk or stingray, while the Grace watch bracelet is fully encrusted with colourless stones. The idea of this collection started with Audrey Watch, which was inspired by Audrey Hepburn's performance in 'Breakfast at Tiffany's.' The dial has a stroke of blue sapphires to represent the river, which is surrounded by green diamonds as an ode to Audrey's rendition of Moon River in the movie. 
The watch dial differs across the watches in shape. Grace watch has a dial that is more defined in a wide rectangular shape, the Audrey watch is narrower and rounded on the top and bottom, while the Ingrid variation is rounded on each side. The decision to make these models in varied designs was not accidental; all three models are the result of a careful research on the lives of the stars' and their careers. " Ingrid Bergman's gentleness and delicate beauty are symbolised by the pink sapphires on a classic and unpretentiously elegant dial. The Grace Watch surely demonstrates the regal charm of of Princess Grace Kelly.
One of Palmiero's most popular jewellery collections is the Underwater world themed rings and brooches, such as these fish brooches, a quirky octopus which wraps itself around your finger, earrings, and a multi-coloured ring with fighting fish. They also designed several rings to create the effect of raging waves, using pearls to recreate the foam.