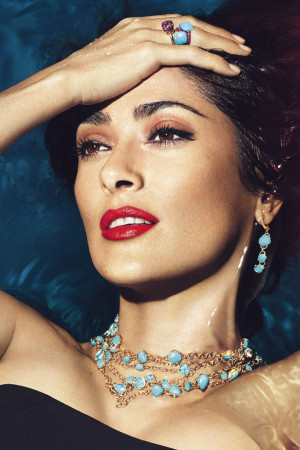 Pomellato was founded in Milan in 1967 by Pino Rabolini – the heir to his family's goldsmith legacy. Introducing the prêt-à-porter philosophy to the traditionally conservative world of jewellery, Rabolini revolutionized women's jewellery choices while shaping Pomellato with a powerful, fashion-forward identity. Fifty years later, his distinctive designs have grown to be admired both in Italy and globally. Pomellato stands out for its unique design and colorful gems which through innovative stone cutting and setting techniques have come to define an unmistakable and iconic style. Pomellato is incredibly proud of being able to create and produce all of jewellery at Casa Pomellato, based in Via Neera's Atelier based in Milan. 
 Past Pomellato campaigns were shot by photographers such as Helmut Newton and Javier Valhonrat and featuring personalities such as Catherine Deneuve, Isabella Rossellini, Sofia Loren and Tilda Swinton. In 1971, Pomellato started working with the master of black-and-white photography, Gian Paolo Barbieri. From 1982 to 1984, the campaigns were signed by Helmut Newton.
 In 2001, Pomellato departed from black-and-white photography to embrace colour with the work of Michel Comte. After Paolo Roversi, author of the 2010 campaign, 2011 saw the comeback of Javier Vallhonrat, portraying the Pomellato's celebrity spokeswoman, Tilda Swinton, in the campaign of the maison.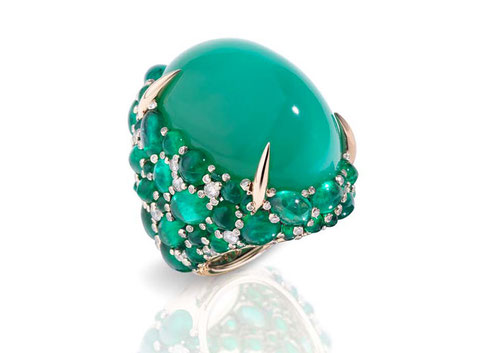 Back in 2007, Pomellato celebrated its 40th anniversary with the release of a new high-end collection, called Pom Pom. Each ornate, one-of-a-kind ring is designed to showcase stones that are unique in their rarity, large size, or irregular shape. Due to the success of this collection, Pomellato releases a new Pom Pom item each year.
Most recently the famous Pom Pom bracelets in the rainbow colours: blue, purple and pink sapphire, tanzanite, aquamarine, tourmaline, canary and rarer Paraiba tourmaline, mandarin garnet, red spinel, tsavorite and  emerald. Each piece in the collection is hand made by craftsmen at Pomellato's Milan headquarters in the true Italian tradition.