Whether fashion design, art, and elegant architecture, Italy is synonymous with beauty and style. However, this unique Italian flair and style takes just the right mix of colours, textures and objects to produce that Italian look.
 Obviously a large influence to this look, is the unique Italian craftsmanship which has been practised and refined over centuries, producing effort-less, ornate and luxurious designs.
 What I have always admired in Italian homes, is this exclusive combination of modern Italian design and classic, more ornate Italian design. You do not feel that you are in a museum, but in a home tastefully decorated, but serene and cosy.
Mix Antiques and Modern to create this special Italian Look
The combination of traditional combined with modern and contemporary furnishings and design objects, can  give a home a very characteristic and unique atmosphere. When combining antique furniture with modern furniture, balance is the key. So you should not overdo it with  by combining too many different styles. The combinations must be consistent with the general style of the house, and please note that old, vintage or very recent past furniture is not antique furniture! As antique objects have a particular character, usually showing remarkable workmanship and very refined and precious details. The contrast between the antique objects and the modern furnishings creates that unique style and personality. 
Why not try a  mix of designer and antique accessories. Just as an Italian woman might wear a designer scarf or pair of shoes with an old pair of jeans and a simple shirt (and look fabulous), so Italians might have just one perfect designer piece in a room, which stands next to an old piece that may have belonged to La Nonna. . The antique furniture or object should be positioned with the right amount of space and angle, and then start combining the other items and colours around it. The Byblos Art Hotel close to Verona, is a great example of mixing modern Italian furniture with antiques. An absolute delight!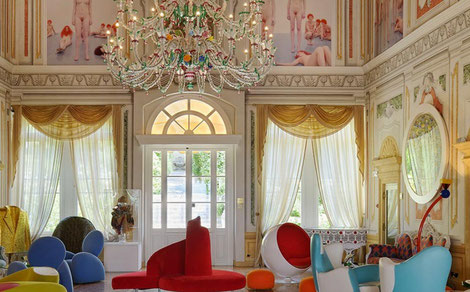 Italian Classic Style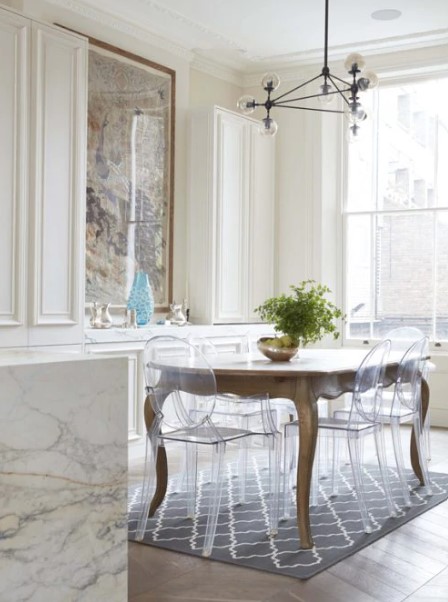 A glass or crystal dining table goes perfectly with antique-style chairs: in this case, the table and chairs do not necessarily have to be paired; the important thing is to find a balance of shapes and colours.
Or the other way round, an antique table with modern chairs. A baroque style chandelier in an ultra modern kitchen will surely have a great aesthetic effect and will be able to give great style and character. An antique or  with a baroque frame, if combined with a modern console, perhaps in the entrance will immediately give a touch of class to your home. Even the combination of classic furnishings on modern furniture such as antique frames, vases or candlesticks combined with modern furniture with square lines and bright colours will give style and personality to your rooms.
Classic Italian-style homes or apartments are not just luxurious, they are literally layered in luxury from floor to ceiling. Every detail is top-quality and fine craftsmanship reigns supreme. A lot of these Italian homes feature a  Murano crystal chandelier draping from panelled ceilings. Their walls feature ornate trim and one-of-a-kind painted murals, and floors are covered in glossy wood or marble with plush rugs for added comfort.
There are also the clean-lined modern Italian homes, which tend to be more minimalist but maintain luxury design through lacquered kitchens, sculptural chandeliers that are still draped in glass crystals, and streamlined furniture that continues the tradition of high-quality. From marble to terracotta, stoneware of all varieties find its origins in Italian history. The geometric designs, colour and inlaid artistry of these stone tiles is elaborate, elegant and a must-have in the Italian-style home. Today's elegantly appointed homes cover their floors and walls in  gleaming marble stone, and modern designs take advantage of these shiny stones to add glamour to their minimalist interiors.
Italian Modern Style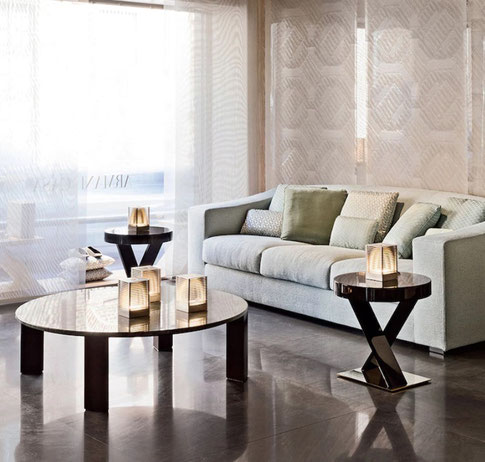 Modern Italian Furniture and Decor style, is best reflected by some of the leading Italian Furniture and Homedesign brands such as Minotti, B&B Italia, Cappellini, Flexform, ArmaniCasa, Poliform, Poltrona Frau, Gianfranco Ferre Casa, Roberto Cavalli Home, Missoni Home, Bentley Home, Fratelli Boffi, Calligari, Kartell, Trussardi Casa, Cassina and Fendi Casa. And the list goes on. Italian furniture design is globally renown, and is celebrated each year at the famous furniture fair Salone di Milano. Some of the most luxury furniture brands are from Italy and the success of this industry is a reflection of vast investments in research, product development, innovation, and new technology. These, together with passion and creative flare, will guarantee the Italians a premier position as Europe's finest in the years to come.
Use of Italian Marble
Italian interior design uses a lot of natural materials, in particular marble. Marble has long been a popular choice in kitchens, and the white marble from Carrara in Tuscany, is particularly popular. Madonna has apparently used it in several of her kitchens. Carrara marble with its characteristic snow-white stone is used to decorate the interiors of upmarket houses and villas.
Carrara marble is ideal for flooring any corner of the home, for finishing stonework kitchens and for laying bathroom floors and wall tiles or white slabs that give an elegant appearance to vertical windows to contrast with the floor. Installing a bathtub with Carrara marble, means furnishing it in a rather luxurious way and then perhaps finishing it with amphorae or with a vase (always in marble) full of flowers or even applying candelabra to the walls. Very stylish!