Italians have been making fine perfumes for centuries and the traditions, skills, and even some of the original formulas that, for centuries, made their perfumes famous the world over are still alive and in use today - whether in Venice, Florence, and other regions. At a time when most fragrances are made by a handful of multi-nationals, there is something truly unique about perfumes and colognes made in Italy by Italians. 
During the Medieval era, Italian perfumers experienced an innovative discovery that changed the history of perfume. They developed aqua mirabilis: a potent 95% alcohol solution ideal for adding natural and synthetic scents. This discovery crowned Venice as the centre of perfumery worldwide for several hundred years. It also helped that 14th century Venice was already the focal point for trade and commerce. Spices, herbs, flowers, oils, and resins often made their way into Italy from the Middle and Far East. This gave Italian perfumers the resources they needed to develop personalized scents for anyone who could afford them. To crown this achievement, Italy was the home of stunning Murano glass which provided perfumers with something stylish to contain their exquisite fragrances. The high alcohol content makes perfume volatile, so glass containers are ideal.
Rare Made in Italy Fragrances based on century old craftsmanship
Carthusia - Profumi di Capri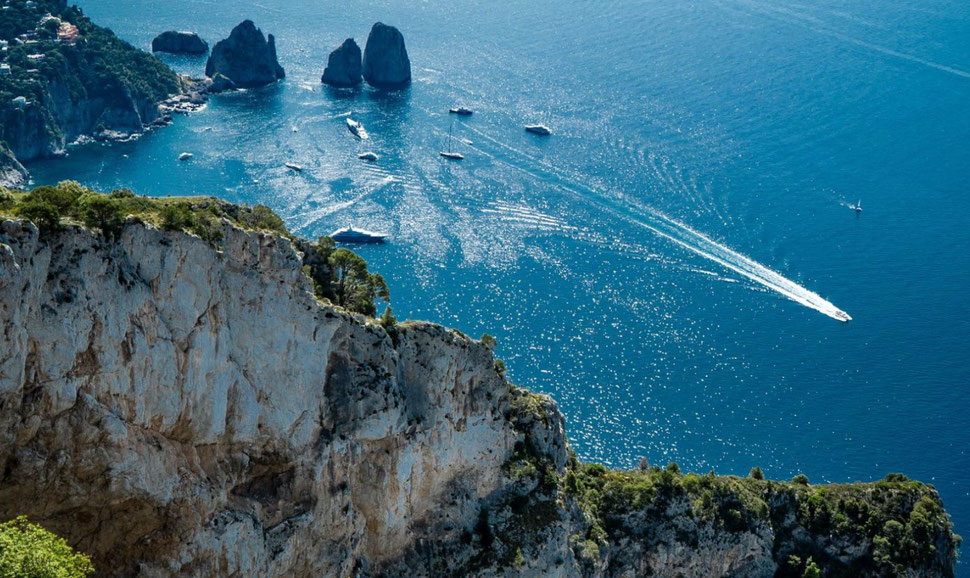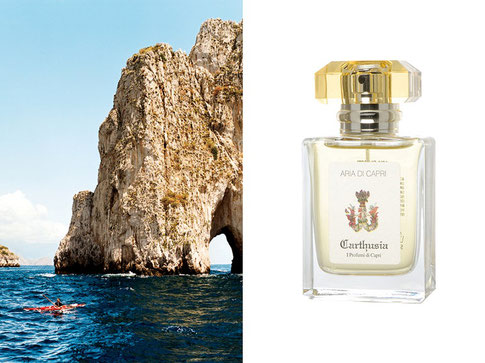 Carthusia - Profumi di Capri - the legend recounts that in 1380, the father prior of the Carthusian Monastery of St. James, taken by surprise by the news of Queen Joan of Anjou coming to Capri, picked a bouquet of the most beautiful flowers of the island; these remained in the same water for three days and, as he went to throw them away, the prior noticed that it had acquired a mysterious fragrance unknown to him. So he turned to the friar specialised in alchemy, who traced the origin of the scent to the "Garofilium Silvestre Caprese". That water was the first perfume of Capri.
According to anecdotes, in 1948 the Prior of the Charterhouse found the old perfume formulae and, with the permission of the Pope, revealed them to a chemist from Piemonte in the North of Italy, and thus created the smallest perfume laboratory in the world, calling it "Carthusia", i.e. "Charterhouse".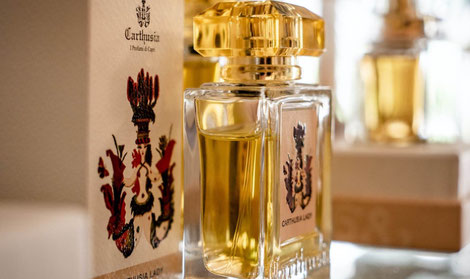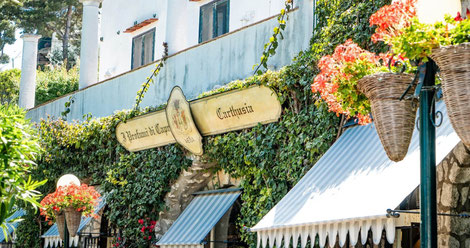 Aria di Capri from Carthusia  is a subtle yet imposing fragrance, that reminds of stunning sea breezes, blue skies, hot sun and fresh flowers of the Mediterranean. The mimosa sweetens the iris, while is strengthened by the essence of lemon and orange and the delicate hint of peaches. An unique and magical fragrance, filled with delightful impressions and memories.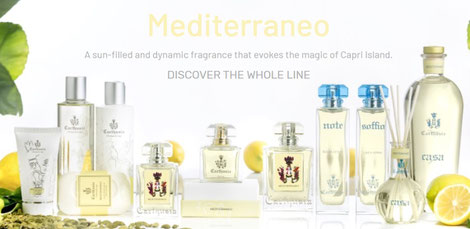 The Mediteraneo Eau di Parfum is a sunny fragrance, which blends the classical pristine freshness of lemon leaves with the youthful and sparkling tones of green tea.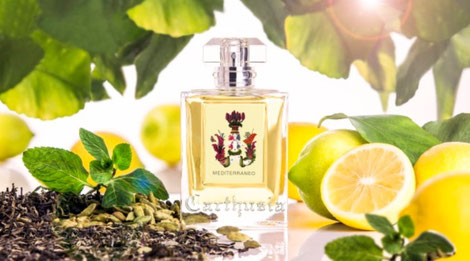 Acqua di Santa Maria Novella - Florence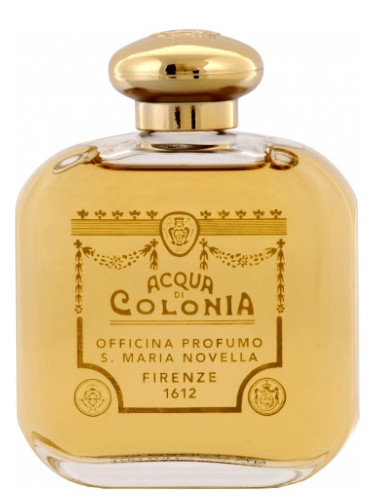 Acqua di S.M.Novella from the  Officina Profumo Farmaceutica di Santa Maria Novella is the oldest fragrance in Italy. It is the perfume that Caterina de' Medici instructed the Dominican monks to create in 1533, and she took it with her to France upon marrying Enrico di Valois.  It has a bouquet of fresh citrus notes with a base of Calabrian bergamot. 
The design of the bottle reminds of the shapes of the historic glass used by the Workshop two centuries ago.
And is used also for all of the Cologne waters created by Santa Maria Novella later.
The Officina Profumo - Farmaceutica di Santa Maria Novella is one of the world's oldest pharmacies, and still today this Florentine company makes award-winning, botanically inspired beauty products that inspire a cult following.
In Castello, overlooking the Medici Villa of Petraia, in via della Petraia 38 / F, the gates of the Garden of Santa Maria Novella is  a paradise of 15,000 square meters. The ancient tradition inherited from the Dominican friars, the hortus conclusus, was cultivated by the friars around their convent as far back as the thirteenth century. Herbs and flowers from these gardens are still today used for the production of the fragrances of Santa Maria Novella.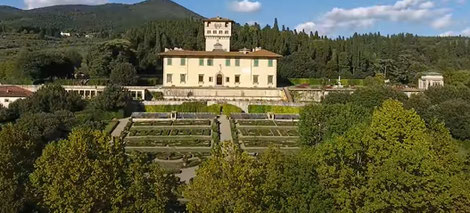 Acqua di Colonia from Farmaceutica di Santa Maria Novella is  low key beauty secret that causes a bit of a buzz among globetrotters, such as Susan Sarandon or Eva Green, who are loyal customers. The company has 75 stores  globally—including one in New York City, London and Moscow, but it  does not advertise. It rather relies on word-of-mouth from its passionate customers, who topple over its special skincare, perfumes, soaps and body care .
Acqua di Parma
In 1916 the Italian baron Carlo Magnani travelled cities such as Paris, London and New York. And inspired by his travels, he creates a fragrance destined for timeless success: Colonia. Fresh and modern which reflects the expression of Italian gentlemen style at that time. In the 1950s, Colonia attained international success, when Hollywood actors, invited to Italy by the great masters of Italian cinema, discovered its intimate and refined notes in the historic bespoke tailors' shops. Today, Acqua di Parma is a leading player on the luxury market, thanks to the production of  this masterpiece of traditional Italian perfumery.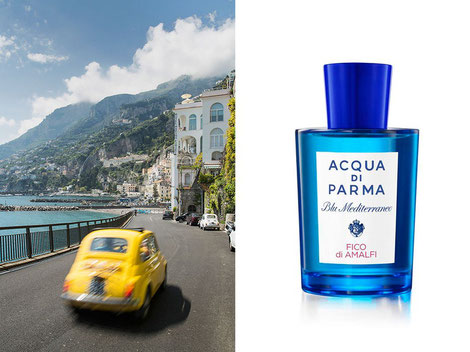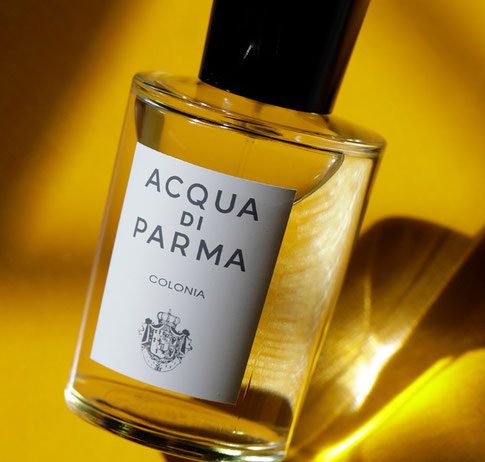 In Colonia, the Italian sun is captured with the "frutti d'oro" - lemon, orange & bergamot – all carefully chosen, handpicked and distilled. Next comes a heart of aromatic and harmonious notes such as lavender, rosemary, verbena and damask rose, followed by warm woody vetiver, sandal and patchouli. All Acqua di Parma products are made in Italy by traditional craftsmen, using only highest quality materials, and are sold through its own stores and network of selected retail partners. In addition to fragrances, Acqua di Parma also offers a range of lifestyle products, such as home fragrances, travel kits and barber products.
Acqua di Parma Colonia Eau de Cologne is the pure essence of Italy. If you've ever visited Italy, chances are you've met people wearing this timeless scent. Colonia was the first fragrance from Acqua di Parma and was launched in 1916. In the beginning it was used to perfume gentlemen's handkerchiefs, but eventually it became a real symbol of Italian chic among American and European celebrities in the pre-war (1930's) and post-war (1950's) years.
Style icons like Cary Grant, Gregory Peck and Audrey Hepburn were among the passionate admirers of Colonia. Other famous wearers of Acqua di Parma Colonia are/were Isabella Rossellini, David Niven, Ava Gardner, Sandra Bullock, Kate Moss, Sharon Stone, Woody Allen and Jude Law.
With prominent wearers like these,  Acqua di Parma grew from a small factory, into a prominent house with a wide range of stores and retailers. Nowadays, the perfume house has over 50 different perfume in it's range.
Acca Kappa 1869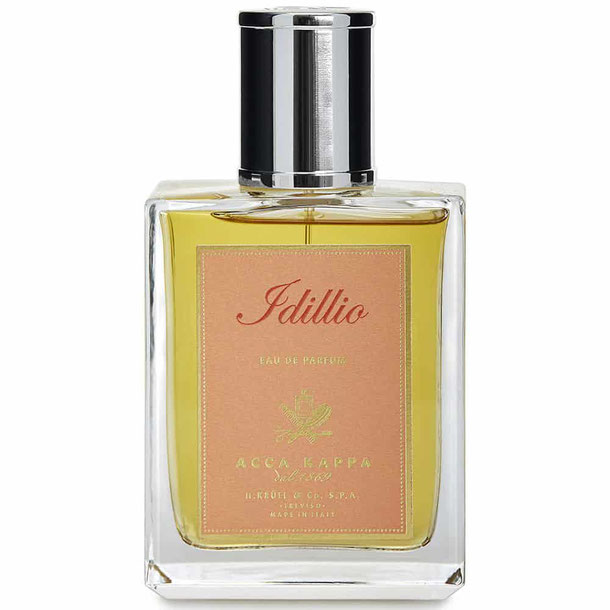 Acca Kappa, is the story of the Krüll family, who have led the company since 1869, based in the heart of the city of Treviso.  The story of a lifestyle, born of Italian taste, culture and elegance.
Acca Kappa. A historic brand of excellence in creating fragrances, professional brushes and body care and wellness products. A world of sensory and olfactory experiences inspired by the fragrances of the flowers and plants found in Italian gardens. Four generations of craftsmen and an absolute passion for simplicity and authentic beauty that can be seen in every item produced. A family company that has become an industrial corporation while remaining faithful to timeless values. A love for nature, respect for the human body and production that is exclusively made in Italy. Available in the finest boutiques and flagship stores. Their latest new fragrance Idillio was launched in 2016. Idillio is a Woody fragrance for women and men. Top notes are rose, sage and chamomile; middle notes are cedar, sandalwood, patchouli and amber-wood; base notes are amber, vanilla, musk, tonka bean and leather.
Violetta di Parma by Borsari 1870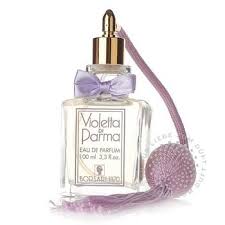 Violetta di Parma - Borsari. This perfume was born at the hands of the friars who in 1556 began to prepare perfumed ointments in the Emilian city. In the mid-1800s, Maria Luigia Duchess of Parma asked the convent to create a perfume made especially for her, based on leaves and violet flowers: the famous Violetta di Parma was born, which has now become one of the most appreciated Italian luxury perfumes in the world, produced by Boarsari. They went on to give us: Bouquet di Violette in 1890; Violetta Classica in 1928; Vera Violetta di Parma in 1940; and since then at least two (Borsari di Violetta and Miss Violet).
Acqua di Genova by Stefano Frecceri 1853
In 1853 the perfume, Acqua di Genova was created by Stefano Frecceri for Vittorio Emanuele II. Virginia Oldoini, Countess of Castiglione, one of the most beautiful and elegant women in Europe was literally enchanted by it. 
This fragrance is still made to the original recipe, using the highest quality natural essences. Presented in the original bottles, it's fresh, clean and delicate fragrance which makes Acqua di Genova perfect for both men and women.The top notes are lavender, bergamot, mandarin and pepper. The middle notes are sandalwood, patchouli and amber. The basic notes  are incense, myrrh, musk and oak moss. The house celebrated its 150th anniversary by launching two new lines - the edition called '1853' and the exclusive line named Gold & Silver.  Acqua di Genova also celebrates the city of Genoa with 'La Superba', a line which includes six different fragrances.
Intercosma West S.p.A. is a Genoa-based company is the license owner and an authorized retailer for Acqua di Genova. Acqua di Genova has 22 perfumes its fragrance range.  The latest edition is  from 2011.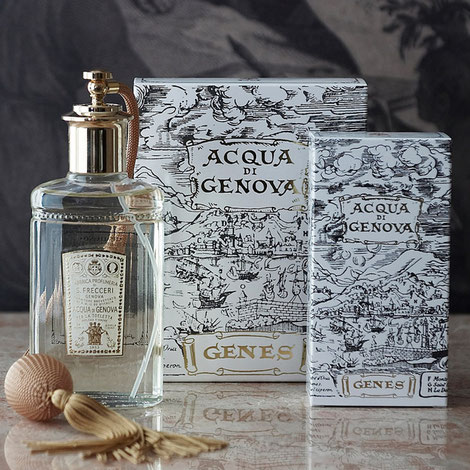 Storie Veneziane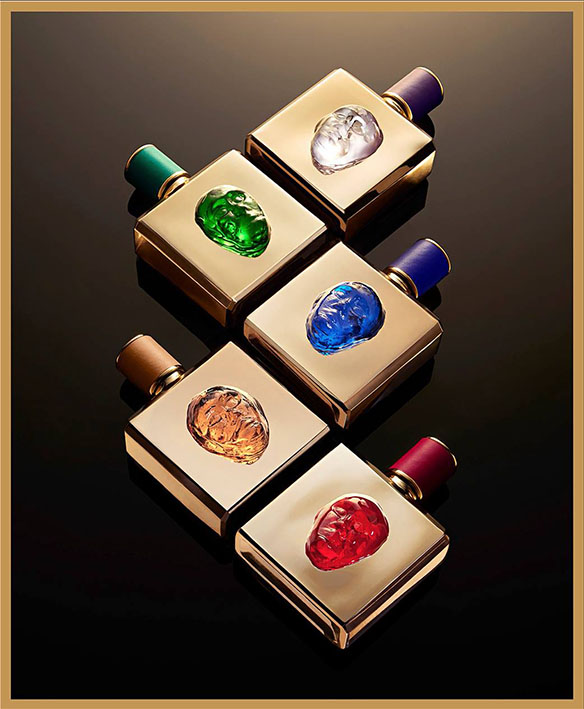 Magical, evocative, always an artistic and cultural crossroads: Venice is a special city, and has inspired the founders of Valmont to create their first collection of fragrances, Storie Veneziane. Whether the translucent bottles which recall the Murano glass, famous in the world since the thirteenth century, and the coloured masks on the bottles; they shine like precious gems - it all reminds of the  history of Venice. The fragrance, scentshe scents of leather, flowers, spices,  and woods. 
A series designed like a collection of olfactory high jewellery : pure essences faceted like gems, long-lasting perfume extracts. Storie Veneziane follows the journey of a Venetian heroine through five iconic sites of La Serenissima.
Fragrances by Italian Designers
The combination of Italian Fashion and Design was the ideal opportunity for Italian Fashion Designers to launch their own range of perfumes. Some of these have becoming world leading perfumes such as Acqua di Giòa by Giorgio Armani, Roma by Laura Biagiotti, Valentino Donna by Valentino, Dolce & Gabbana with a range of perfurmes with stylish advertising, Salvatore Ferragamo with its own range and one of the top perfumes Tuscany and Versace.  As with all the excellence of Italy, even the perfumery is closely linked to the Italian craft tradition.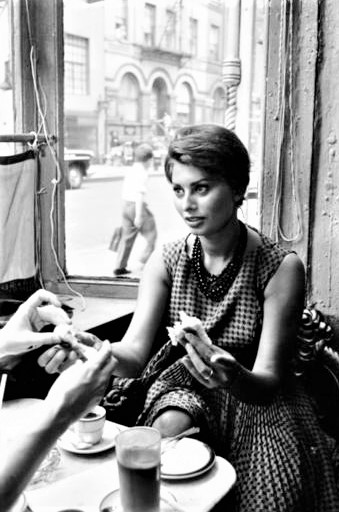 Italian perfumery has a reputation for flamboyance – embodied by the Cinecittà glamour of Sophia Loren, as well as the gold tan and bleached-blonde look of Donatella Versace. There is no doubt that Italian women wear scents differently from that of  French or German women. Italian women enjoy lush white florals with a touch of powder for an enveloping, lingering effect. When you encounter an Italian woman wearing one of these stunning fragrances, combined with this unique style and chic at an outdoor café some place in Rome or Palermo, and you'll understand better Italy's affection for the baroque.