Much like Italian fashion design, jewellery design possesses a diverse blend of passion, inspiration and creativity that translates into incredible, wearable art objects. The world's most stunning and desirable jewellery is meticulously handcrafted in Italy.  Italy is known worldwide for its highly skilled jewellery craftsmen.  An Italian jewellery piece is much more than just a fashionable and elegant decoration; its design is based on a diverse cultural history and centuries of ingenious recognition. A mixture of cultural influences set in the prosperous Roman Empire formed a craft which, even today, strongly demonstrates creativity and passion. Together with the high demand for the luxury of their craft, these early goldsmiths were the prime stimulant  for the impeccable standards and variety of Italian jewellery design today. We are giving an overview of some of the most famous Italian Jewellery brands, known the world over.
Bulgari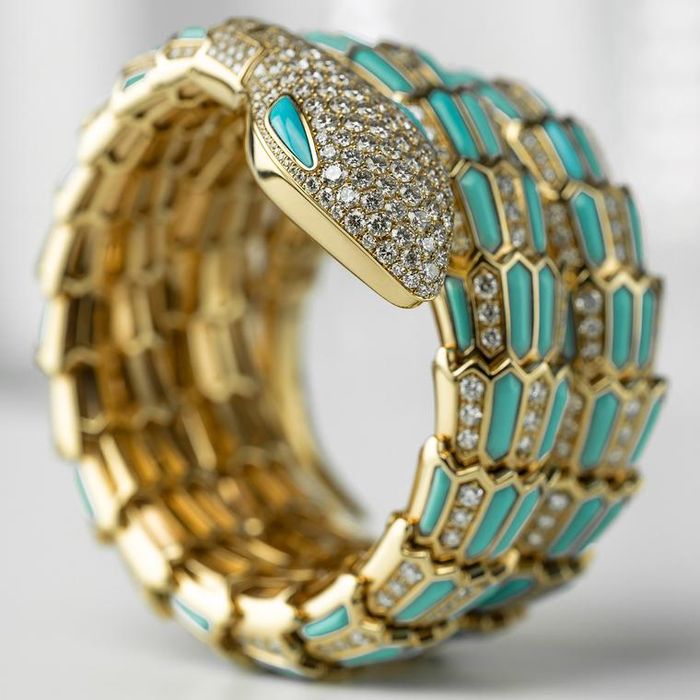 Bulgari is without doubt the most well-known Italian jewellery brand. Its history goes back to 1884 when Sotirio Voulgaris opened his first shop under the Bulgari name in Rome. When the Jeweller redesigned its logo in 1932, the trademark BVLGARI, that we are now so familiar with, was written in the classical Latin alphabet derived from the founder, Sotir Bvlgari's name. When the brand would later introduce its B.Zero1 Collection, which prominently showcased the BVLGARI logo, the designers sited the Colosseum as their primary inspiration.
Bulgari's Serpenti motif draws from the seductive serpent characters of ancient Greek and Roman mythology. Its iconic Tubogas technique, used in its watches and jewelry designs, is a braided metal affect that also harkens back to the snake symbolism for wisdom, life, and eternity.
During the Dolce Vita years of the 50's and 60's, Bvlgari became the jeweller to the stars thanks to the American film industry which started to produce movies and extravagant epics in Rome, then dubbed "Hollywood on the Tiber".
Legendary movies like Roman Holidays or La Dolce Vita made the Eternal City a magical place to visit at least once in your life.  At the same time, Elizabeth Taylor, Audrey Hepburn, Ingrid Bergman, Grace Kelly, Anita Ekberg and others were fascinated by the Bvlgari store on Via Condotti showing their passion for Bvlgari jewels both on and off the screen.  Bvlgari is famous for coloured gemstones, especially sapphires mixed in unique formats. The success of the brand is in their unexceptional designs that blend simplicity with traditional classic elements and innovative touches. When you discover the Bvlgari collection the only words which come to your mind are superb design, timeless style and a pure perfection.  
Buccellati
The history of Buccellati brand started in mid eighteen century when Contardo Buccellati worked as a goldsmith in Milan.  1903, Mario Buccellati renewed the family tradition, apprenticing at Milan's prestigious Beltrami & Beltrami at the age of twelve. In 1919, Buccellati took over the firm, changing its name to Buccellati. After triumphant participation in an international exhibition at Madrid in 1920, the brand experienced a huge success and an international acclaim. Spanish aristocrats and a royal family were the lifelong clients. The house of Buccellati was honored with a commission by Pope Pius XII in 1949. Today the brand honors its tradition of incredible craftsmanship through its Unica Collection, one-of-a-kind intricate and exquisite pieces that evoke the romantic ideals of old Italian luxury. These handcrafted pieces are each uniquely designed around the brilliant gems and center stones. The hand-poured gold is richly textured with an elaborate engraving pattern to further heighten the individuality of every item in the collection. Despite the rarity of these pieces, the Unica collection accounts for 70% of Buccellati's total annual sales.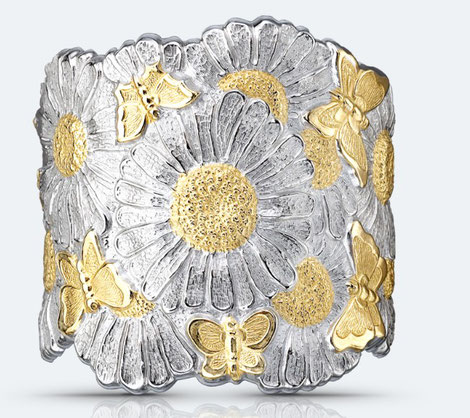 The jeweller is now in its third generation and continues to expand its international presence. A quote from Gianmaria Buccellati explains, that their jewels are entirely hand-made, with love, patience, and time by the best craftsmen in Italy. All of the Buccellati jewellery  is created to look and feel like silk, lace, damask, tulle or linen.   The use of mixed metals such as silver and gold as well as platinum and gold is also typical. If there are any gemstones used, they are unusual and include carved emeralds, rubies and rose-cut diamonds.
Roberto Coin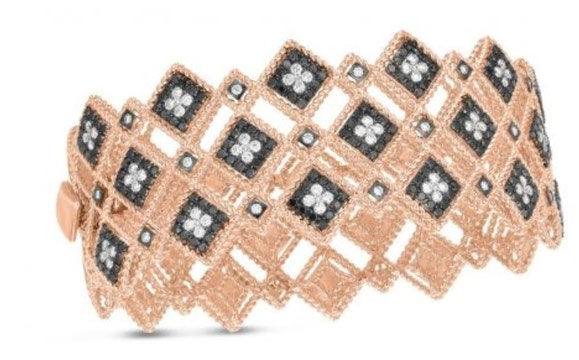 Established in Vicenza, Italy in 1977, Roberto Coin is a comparative newcomer, relative to the other Italian jewellers in this post. When the brand officially launched in 1996, Roberto Coin used a unique brand signature: a small ruby. Set on the inside of every piece, this hidden gem was a part of the ancient belief that wearing a ruby promoted long life, health and happiness. Roberto Coin is a master of light, shape and colour. He uses materials that include 18ct yellow gold, white gold, and rose gold, diamonds, precious stones, gold and steel, wood and other supplies for his necklaces, bracelets, rings, earrings, brooches and pendants. He is intimately involved in all aspects of his business; from design to manufacturing, marketing and finance.Celebrities adore wearing Roberto Coin jewellery, admirers of the art are Elizabeth Hurley, Halle Berry, Selena Gomez, Ophra Winfrey and many more.
Today, Roberto Coin is globally known as an extraordinary jewellery designer, employing many master craftsmen to bring his concepts to life. Any given year, Roberto Coin debuts hundreds of new pieces and dozens of new collections. The Italian-born Coin loves to surprise people with his creations, which are made in tones of gold, diamonds, and gemstones. Among the best-sellers are the Appassionata line of sophisticated woven, highly feminine gold jewellery ); the Cento, a proprietary 100-facet diamond collection; and the fan-favourite Animalier series of animal-inspired rings, bracelets, and cuffs. From the classic collections to the nuanced pieces that debut annually, all Roberto Coin jewellery carries a signature ruby on the inner side as his stamp of authenticity. 
Damiani
Damiani began in 1924 as a small family business, headed by patriarch Enrico Grassi Damiani, that specialized in diamond jewellery. He started creating small unique and sophisticated masterpieces for noble families of the period and for many years Damiani were the suppliers for the Italian royal family. His ornate designs quickly became a favourite among the Italian elite and noble families and the brand enjoyed increasing fame across Italy. Today Damiani reigns as the leading brand in the Italian jewellery market, holding a record-setting 18 Diamonds International Awards. And even though it has become a publicly traded brand on the Italian stock exchange, it holds onto its family business tradition with the third generation of the Damiani family at the helm. The collection continues to be handcrafted in Italy and Damiani classifies itself as the "ambassador of Italian style."
The brand's most trademark design is the Metropolitan Dream Collection. Cast by Damiani's master goldsmiths, the collection features a unique, raised texture symbolizing an urban skyline with diamonds sparkling with metropolitan glamour.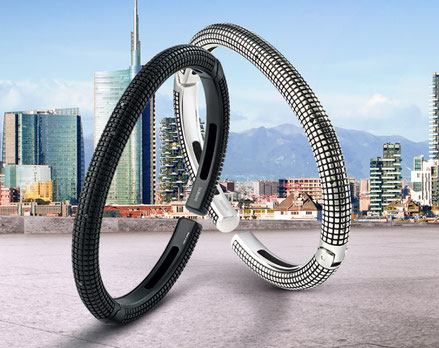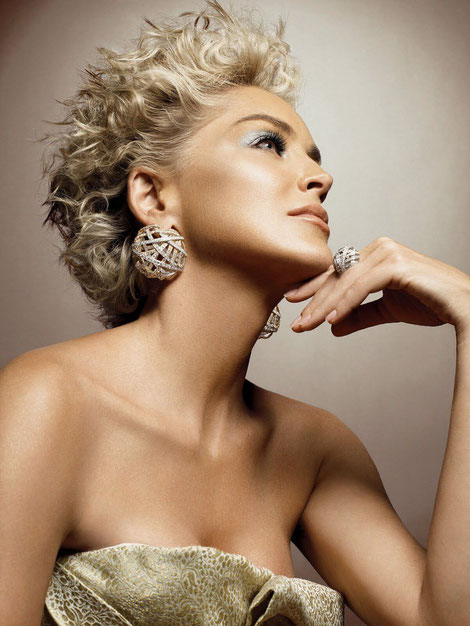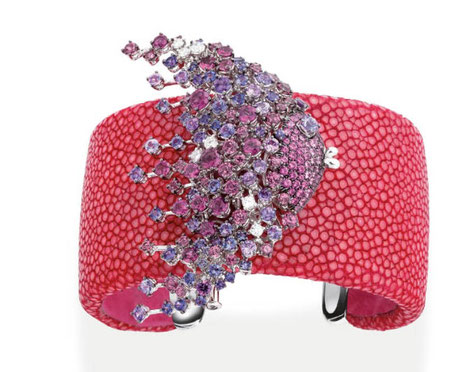 Today, the brand is hugely successful in Italy and in the international jewellery market because of strong identity, great production skills and original design. Damiani's modern and innovative style makes each of its creations unique and unmistakable. The muses of the brands are Isabella Rossellini, Sharon Stone, Sofia Loren, and Jennifer Aniston. Damiani dedicated a special collection to Sofia Loren. 
FOPE - Innovative Italian Jewellery from Vicenza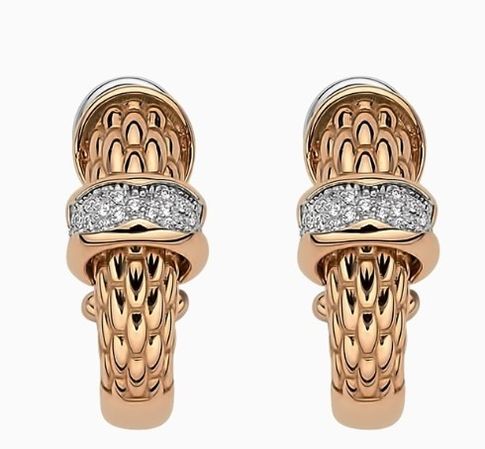 Umberto Cazzola, first of the Cazzola's dynasty of jewellers, opened his first goldsmith's workshop with about 20 employees back in 1929, eventually passing on his innovative, pioneering approach to his son Odino.  Odino invested in modern technologies that let him to develop revolutionary products, such as the flexible metal straps which will be the core of the production until the 1960s. In 1948 FOPE presented some works of the finest modern goldsmiths at Vicenza fair for the very first time. In Italy FICM, an acronym for Italian factory metal strap, was the first company to make these products. The leading Swiss watch makers demanded for very high standards and FOPE, thanks to craftsmanship and innovative technologies, became the leading supplier in Italy. At the end of the 1960s Odino changed the company name from FICM to FOPE which translates into Factory of Jewellery Precious Export. Umberto (named after his grandfather) and his sister Ines transformed the family business by investing extensively in research and development and perfecting cutting-edge technologies. 
In these years FOPE specialised in making watch-straps and watch-cases from gold and began to experiment new techniques to create exquisite jewellery. In 1985 it created the Novecento mesh, today the true brand's icon, shaping it into many different designs: the brand's signature style brought it success in Italy and, later, world-wide. FOPE inaugurated its new headquarters in the center of Vicenza.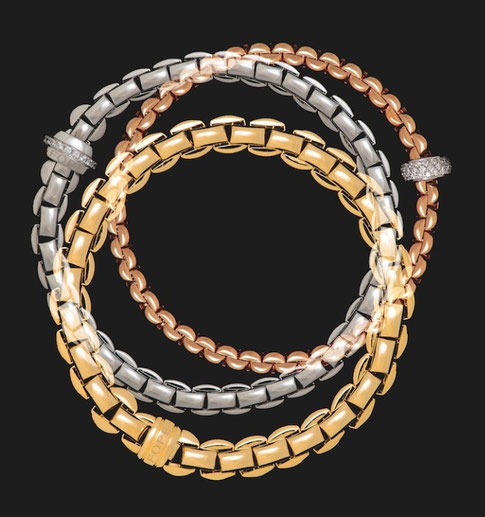 Vicenza is the place where the company continues to blend craftsmanship and state of the art technology, while securing leading distinctive jewellery collections. In these years the fourth generation joined the family firm: Giulia, Umberto's late daughter, opened the American branch in New York. Later she started to managed the brand's marketing strategies and became part of the company's board playing a fundamental role in launching FOPE worldwide. The Flex'it lines feature stretchable bracelets and rings crafted solely in 18 carat gold and rendered fully flexible thanks to tiny gold springs hidden between each link.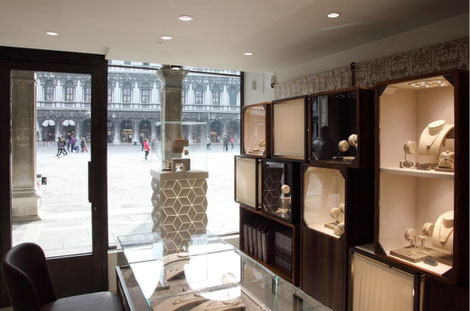 FOPE invented this ground-breaking system a few decades ago, then patented it and applied it to its signature gold mesh chain in 2007. Since day one, Eka has represented a true revolution in the way women wear their jewellery, with the original roll-on mesh chain becoming a new must-have to keep on the wrist around the clock. 2015 was a very special year to FOPE who has enjoyed the success of the Venice flagship store which has exceeded any expectation.
---