Why not take an imaginary trip to Italy by reading and browsing through this fabulous range of books on Italy. Some you might have already read or some are due to be released. Enjoy the trip! Buon Viaggio!
Italy: An Amazing Place - Stefano Zuffi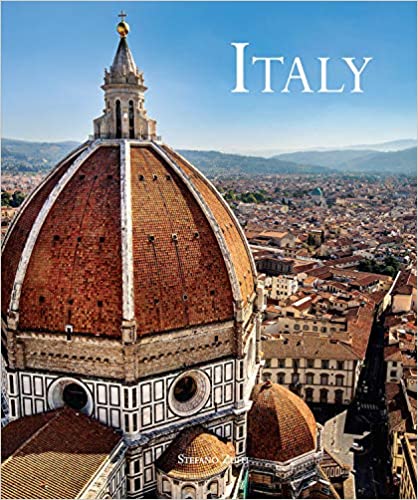 Italy - An Amazing Place - Hardcover – October 1, 2019
Palaces and castles, villas and abbeys, churches and archaeological complexes: Italy's signature structures tell extraordinary stories and are crucial to understanding its cities and culture. Discover Italy's historical masterpieces from a new perspective, in the context of their history and the cities and towns around them. Artistic, social, and human angles are covered. This book pays homage to the eternal beauty of Italy's signature architectural works, which for centuries have relayed a message of serene beauty and human potential.
A masterpiece clearly speaks to its original era, but also lives in the present. It fills us with emotion and tells us stories about the people who came before us—bonding us to the city and even the country where it is located.
Rome - Portrait of a City - Giovanni Fanelli
Rome. Portrait of a City - Hardcover – January 19, 2020
This fabulous photographic portrait of Rome brings together hundreds of photographs from the 1840s through to today to explore the extraordinary history, beauty, and art of this incredible cultural capital.
From sepia and black and white to color, these outstanding images dating from the 1840s to the present day allow us ― through the eyes of such photographers as Giacomo Caneva, Pompeo Molins, Giuseppe Primoli, Alfred Eisenstaedt, Carlo Bavagnoli, Henri Cartier-Bresson, Pasquale De Antonis, Peter Lindbergh, Slim Aarons, and William Klein ― to discover Rome in its many compelling angles: as the center of the Roman Empire, as one of the cradles of the Renaissance, as a favourite destination for travellers and a rich patchwork of varied neighbourhoods, as the seat of the Roman Catholic Church, a stage for politics, and as the perfect backdrop for film and fashion shoots.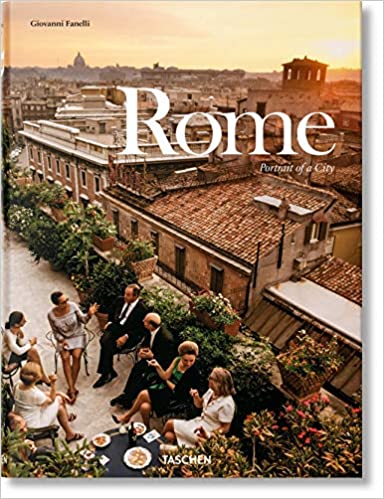 Great Escapes Italy 2019 - Angelika Taschen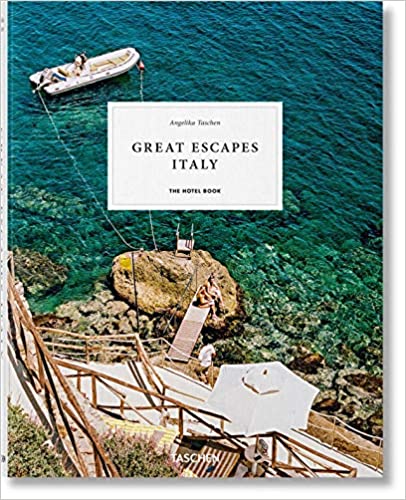 Great Escapes Italy Hardcover – April 4, 2020
by Angelika Taschen  
This updated version from April 2020, is even grander than the original 2017 edition. To travel through Italy is as close as one gets to being in paradise. For centuries, writers, artists, architects, and merchants have been drawn here, inspired by the beauty of Venice, Florence, Naples, and Rome. The loveliness of Italy is, if not eternal, certainly enduring, and the easygoing and relaxed Italian lifestyle is still unrivalled.
Here, some of Italy's most amazing landscapes and diverse regions are brought to life, like Tuscany, Umbria, the Amalfi Coast, and, no less magical, the Aeolian Islands off the coast of Sicily. In these mythical surroundings are legendary hotels full of atmosphere, where novels are set, movies are made, weddings are celebrated, and famous love stories consummated: Villa d'Este on Lake Como, the Pellicano Hotel in Porto Ercole, the Il San Pietro on the Amalfi Coast, and the Palazzo Margherita in Basilicata―to name just a few. Angelika Taschen also reveals where to find more secret and hidden jewels―from the Locanda Cipriani, a destination for food lovers on the island of Torcello, to the romantic Castello di Vicarello in Tuscany and the atmospheric Masseria Moroseta in Puglia.
Sicily - Magnificent Interiors - Samuele Mazza
Magnificent Interiors of Sicily Hardcover – May 7, 2019
by Richard Engel  (Author), Samuele Mazza (Author)
An elegant volume dedicated to the most exclusive villas and homes in southern Sicily's Val di Noto region, perfect for those who love to daydream about travelling to unusual, stunning places.
Val di Noto is a magnificent land of architectural interest, renowned for its beautiful landscapes and recognized as a UNESCO world heritage site since 2002. This book presents a refined selection of the extraordinary mansions of the area, many of which were rebuilt in the late Baroque style in the early decades of the eighteenth century following a devastating earthquake. Country residences, farms, and villas are featured, which have all been restored to their centuries-old magnificence, thanks to a highly successful combination of tradition and innovation.
The enchantment of Val di Noto is not only about splendid residences. The area is also rich in natural parks, including the beautiful nature reserve of Vendicari. The volume provides many tips on what to see and visit.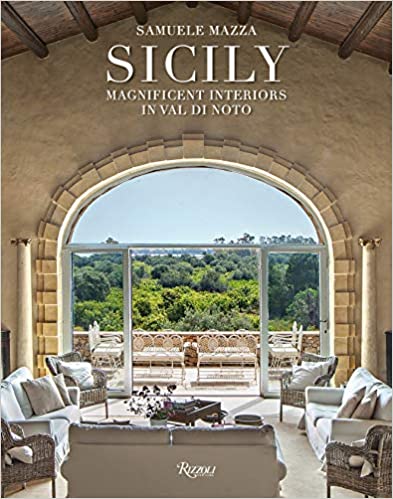 The Roads to Rome - Jarrett Wrisley, Paolo Vitaletti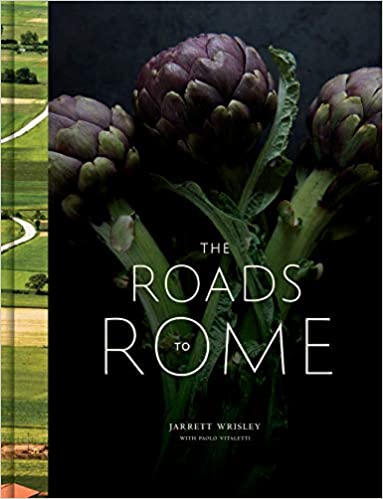 The Roads to Rome Hardcover – November 3, 2020
by Jarrett Wrisley (Author), Paolo Vitaletti (Author)
Discover the origins of Rome's most iconic dishes by cooking along the roads that built the Eternal City.
When Jarrett Wrisley opened an Italian restaurant in Bangkok with his business partner and chef, Paolo Vitaletti, he wanted to run the most authentic Roman trattoria he could. But travels in Italy taught him that Roman cuisine doesn't come from Rome, exactly, but from the roads to Rome--the trade routes that brought foods from all over Italy to the capital. As Jarrett and Paolo weave their way between Roman kitchens and through the countryside of Lazio, Umbria, and Emilia-Romagna, they encounter farmers and artisans who show us the origins of the ingredients that gave rise to such iconic Roman dishes as Tonnarelli Cacio e Pepe and Spaghetti all'Amatriciana. The exquisite journey also sheds light on the dishes of the countryside--from Vignarola (sautéed artichokes, fava beans, and spring peas with guanciale) to Cozze alla Marinara (mussels pulled straight from the Amalfi coast).
The Roads to Rome is an ode to the butchers, fishermen, and other artisans who feed the city, and how their history and culture come to the plate.
Friuli - Food and Wine - Bobby Stuckey
Friuli Food and Wine: Frasca Cooking from Northern Italy's Mountains, Vineyards, and Seaside Hardcover – July 7, 2020 by Bobby Stuckey, Lachlan Mackinnon-Patterson
Featuring 80 recipes and wine pairings from a master sommelier and James Beard Award-winning chef. Bordered by Austria, Slovenia, and the Adriatic Sea, the northeastern Italian region of Friuli Venezia Giulia is an area of immense cultural blending, geographical diversity, and idyllic beauty.  Meaning "branch" or "bough," the word frasca refers to the Friulian tradition of hanging a branch outside the family farm as a sign that new wine was available for sale. Dishes such as Wild Mushroom and Montasio Fonduta, Chicken Marcundela with Cherry Mostarda and Potato Puree, Squash Gnocchi with Smoked Ricotta Sauce, and Whole Branzino in a Salt Crust are organized by Land, Sea, and Mountains, while profiles of local winemakers and wines, including Tocai, Ribolla Gialla, Malvasia Istriana, and Verduzzo, open up new pairing possibilities. Showcasing the best Friulian wines you can buy outside of Italy as well as restaurant and winery recommendations, this beautifully photographed cookbook, wine guide, and travelogue brings the delicious secrets of this untouched part of Italy into your home kitchen.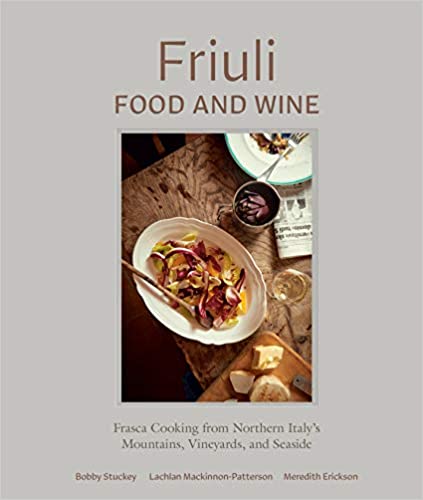 Cucinare - Healthy and Authentic Italian cooking - Marco Bianchi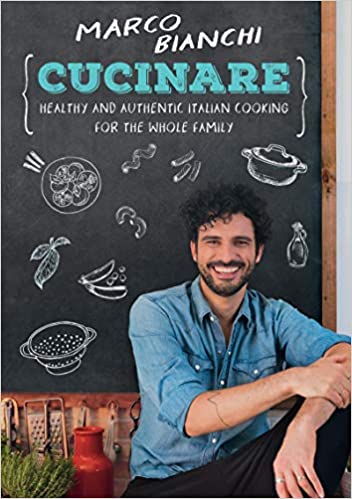 Cucinare: Healthy and Authentic Italian Cooking for the Whole Family Hardcover – May 26, 2020
In this gorgeous full-colour lifestyle cookbook, the Italian cook, television personality, and bestselling cookbook author offers personal tips and tricks on maintaining a healthy diet and provides 65 of his favourite Mediterranean recipes to help you eat deliciously and live well.
"What do you eat on a typical day?" This is the question Italian cook and television personality Marco Bianchi is frequently asked. A food mentor revered for his expertise in maintaining a healthy diet and lifestyle, he believes that one's daily food regime is the key to reaching and sustaining health and happiness. Now, for the first time, Marco opens his home in Milan and shares insights on eating and wellness, as well as some of his favourite recipes―everything necessary to feed the body, mind, and soul.
Cucinare is an exciting behind-the-scenes look at Bianchi's everyday life, captured in nearly 200 colour photographs. In talking about healthy eating, he reminds us that the most often overlooked items for a good, balanced diet are already in the pantry and fridge. He dispels myths involving the science of nutrition and enthusiastically demonstrates his art, giving you the step-by-step instructions and simple ingredients to create delicious, healthy dishes
The Sicily Cookbook - Cettina Vicenzino
The Sicily Cookbook: Authentic Recipes from a Mediterranean Island Hardcover – March 18, 2020
Embark on the enchanting culinary journey and experience the culinary delights of the Sicilian diet.
Join Sicilian cook, writer, and photographer Cettina Vicenzino as she shares more than 70 authentic and mouth-watering recipes from this unique Mediterranean island. While only a few miles from Italy, Sicily's heritage is proudly distinct from that of the mainland, favouring dishes packed with spices, citrus fruits, cheeses, olives, tomatoes, eggplants, and seafood.
Featuring three strands of Sicilian cooking--Cucina Povera (peasant food), Cibo di Strada (street food), and Cucina dei Monsù (sophisticated food)--alongside profiles on local chefs and food producers, The Sicily Cookbook invites you to discover the island's culinary culture and let your summer cooking burst with Mediterranean sunshine.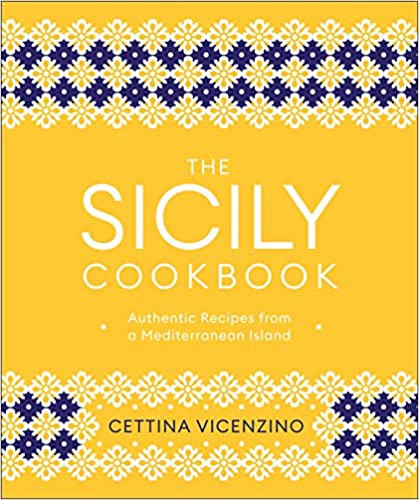 Food of the Italian South - Katie Parla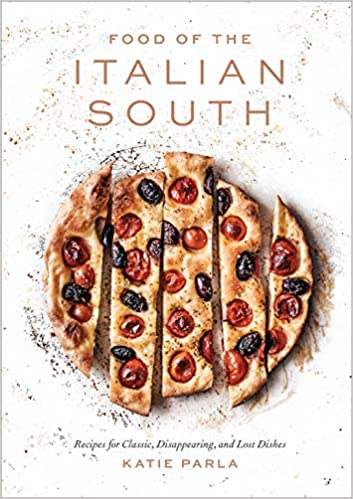 Food of the Italian South: Recipes for Classic, Disappearing, and Lost Dishes: A Cookbook Hardcover – March 12, 2019
85 authentic recipes and 100 stunning photographs that capture the cultural and cooking traditions of the Italian South, from the mountains to the coast. In most cultures, exploring food means exploring history—and the Italian south has plenty of both to offer. The pasta-heavy, tomato-forward "Italian food" the world knows and loves does not actually represent the entire country; rather, these beloved and widespread culinary traditions hail from the regional cuisines of the south. Acclaimed author and food journalist Katie Parla takes you on a tour through these vibrant destinations so you can sink your teeth into the secrets of their rustic, romantic dishes. Parla shares rich recipes, both original and reimagined, along with historical and cultural insights that encapsulate the miles of rugged beaches, sheep-dotted mountains, meditatively quiet towns, and, most important, culinary traditions unique to this precious piece of Italy. With just a bite of the Involtini alla Piazzetta from farm-rich Campania, a taste of Giurgiulena from the sugar-happy kitchens of Calabria, a forkful of 'U Pan' Cuott' from mountainous Basilicata, a morsel  of Focaccia from coastal Puglia, or a mouthful of Pizz e Foje from quaint Molise, you'll discover what makes the food of the Italian south unique.
Italian Chic - Daria Reina, Andrea Ferolla
Hard Cover October 5, 2018
Italy is a country synonymous with style and beauty in all aspects of life: the rich history of Rome, Renaissance art of Florence, graceful canals of Venice, high fashion of Milan, signature pasta alla bolognese of Bologna, colourful architecture of Portofino and winking blue waters of Capri and the Amalfi Coast, among many others. Italians themselves live effortlessly amid all this splendour, knowing instinctively just the type of outfit to throw on, design element to balance, or delectable ingredient to add. Daria Reina and Andrea Ferolla, sensitive and often nostalgic lovers of their home country, take readers on a tour of an Italian's Italy, off the main roads traversed by tourists and onto hidden side streets or off the grid altogether, to corners lesser known but filled to bursting with the quintessential details that define timeless Italian style. See the Sassi cave dwellings etched into the mountainside of Matera; admire the red-orange walls characteristic of the Emilia-Romagna region; and examine the carved birds at Sorrento's Grand Hotel Ambasciatori, so lifelike they might fly off the page. Reina and Ferolla invite readers to discover the special moments and places that reveal an intimate portrait of one of the world's most treasured destinations, and Ferolla's classical illustrations add another level of personality to the journey.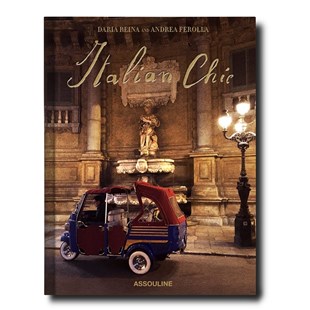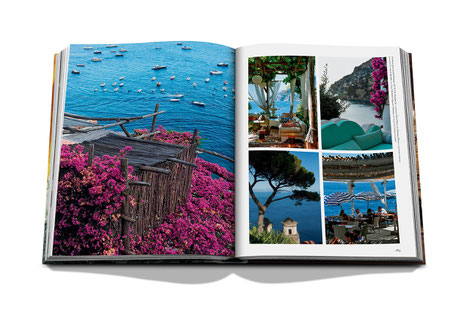 Lecce Style Interiors - Congedo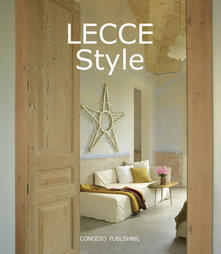 Lecce style. Ediz. Editore: Congedo
Anno edizione: 2019
There is a Lecce Style. Different from Salento Style and Puglia Style.
The Lecce of those who have searched for buildings for too long  forgotten in the folds of time and have now awakened them, and reinvigorated its interior. Of those who have chosen to "make a house" in a convent, in an old soap factory, in a garden. Those, who fell in love with a peeling plaster, a golden frieze that had stopped shining, the glimpse of the statue of a Saint stolen from a window. Of those who supported the genius loci, but accompanied it by the hand. Of those who tried to understand what was under and through and beyond. A book to tell what Lecce has become for a few years. Stunning designs and interiors. Inspiring!
Entryways of Milan - Fabrizio Ballabio
Entryways of Milan – Ingressi di Milano (English and Italian Edition) (Italian) Hardcover – March 10, 2020
by Fabrizio Ballabio (Author), Daniel Sherer (Author)
First impressions count, especially in Milano. In this unprecedented photographic journey, editor Karl Kolbitz opens the door to 144 of the city's most sumptuous entrance halls, captivating in their diversity and splendor. These vibrant Milanese entryways, until now hidden away behind often restrained façades, are revealed as dazzling examples of Italian modernism, mediating public and private space with vivid configurations of colour and form, from floors of juxtaposed stones to murals of minimalist geometry. The collection spans buildings from 1920 to 1970 and showcases the work of some of the city's most illustrious architects and designers, including Giovanni Muzio, Gio Ponti, Piero Portaluppi, and Luigi Caccia Dominioni, as well as non-pedigreed architecture of equal impact and interest. The photographs for the publication were exclusively created by Delfino Sisto Legnani, Paola Pansini, and Matthew Billings, each evoking the entryways with individual sensibility and a stylistic interplay of detail shots―such as stones, door handles, and handrails―with larger architectural views.The images are accompanied by outstanding written contributions from Penny Sparke, Fabrizio Ballabio, Lisa Hockemeyer, Daniel Sherer, Brian Kish, and Grazia Signori, together bringing a wealth of architecture, design, and natural stone expertise to guide the reader through the applied materials and fittings as well as the art-historical and social implications of each of the ingressi.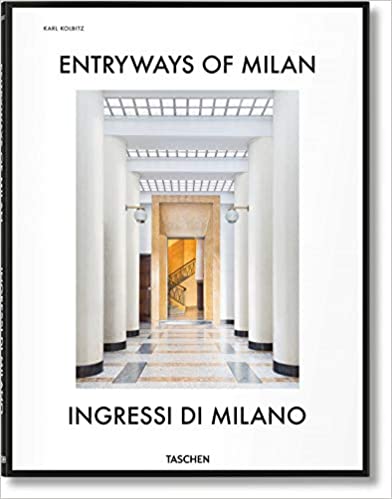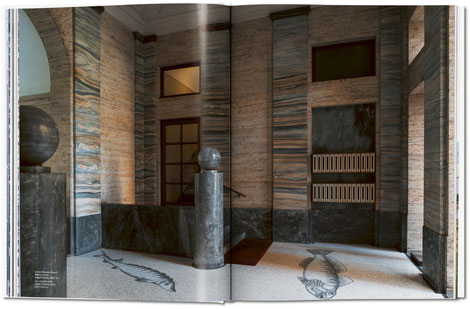 Domus: A journey into Italy's most creative interiors - Oberto Gili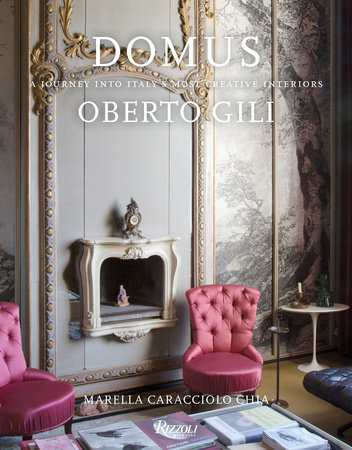 Domus: A Journey Into Italy's Most Creative Interiors
Written by Oberto Gili, Text by Marella Caracciolo 
Publish Date: October 11, 2016
An insider's tour of the most creative and inspiring rooms belonging to tastemakers—artists, interior designers, craftspeople, collectors, and aristocrats—in Italy today. Italy has been a source of inspiration for generations of artists and lovers of beauty. In this book, Italians Oberto Gili and Marella Caracciolo Chia take us around the country and into the homes of some of its most stylish habitués. From rural estates in Tuscany and spectacular seaside villas to an eighteenth-century palace in Puglia and city residences in Turin, Milan, Venice, Rome, and Naples, the properties reveal the unique personal visions of the owners and the inescapable appeal of Italian style. The diversity of places echoes the wide range of geographical contexts. Each interior acts as a source of surprise and an impetus for creativity, reflecting the individual tastes and talents of those who live and have lived there—designer Carlo Mollino, couturier Stephan Janson, art and literary scholar Mario Praz, and artists Sandro Chia and Alessandro Twombly. In addition to the houses of artists and craftspeople, rooms of visionary interior designers, such as Camilla Guinness, Roberto Peregalli, and Laura Sartori Rimini, are also included. This book—an intimate glimpse into some of the most beautiful and inaccessible dwellings in Italy today—is perfect for aesthetically minded readers with an interest in interior design, Italy, and the art of fine living.
Ciao! - Mario Testino
Ciao! An ode to Italy - Mario Testino - Taschen Hardover April 2020
Venezia, Roma, Napoli, Firenze. This is Italy as we've never seen it before. By the sea and on the streets, from Torino to Montepulciano, discover an intimate portrait of the Italy that Mario Testino, the famous photographer knows and loves. Gathering personal, previously unpublished photographs, this is an ode to Italy's people, art, food, and fashion.