Easter lunch is the first official occasion to welcome the new spring cuisine, a cuisine that is finally fresher, more delicate and colorful, with new vegetables, crunchy textures, flavors that meet lightness. Here a delicious menu for your Italian Easter lunch, prepared by Italian Michelin Star Chefs.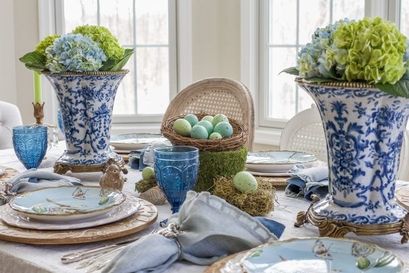 Antipasti - Appetizer
Ricetta Pasqua Patè di fegatini di pollo in cassetta di pane al caffè - Edoardo Billi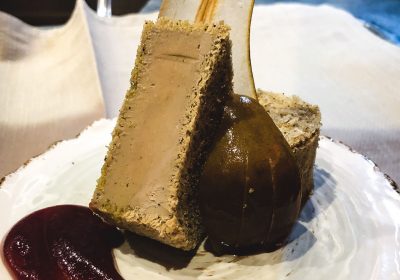 The chef Edoardo Billi of the Le Logge del Vignola restaurant in Montepulciano (SI) offers us his recipe of Chicken liver pate in a box of coffee bread, picciola pear and cooked wine sauce.
Ingredients for 4 people:
Salt and Pepper to taste; 400 g chicken liver; 200 g butter; 70 g onion finely chopped; 70 g of celery
70 g of carrot; 1 tasty apple; 100 ml of Vinsanto; 4 small pears in syrup and spiced; Extra virgin olive oil to taste
For the coffee bread:
500 g 00 flour; 7 g coffee powder; 2 eggs; 20 g salt; 30 g yeast; 30 cl warm milk
Preparation:
For the Wine sauce:
Reduce half a liter of red wine with 50 g of sugar, cinnamon, cloves and star anise and a small apple, once reduced remove the spices and blend with the apple inside
Bread preparation:
Combine flour, coffee powder, eggs, salt and mix, then add the yeast dissolved in the milk, knead and form a compact dough, knead it by hand and put it in a buttered mold. Let rise for about 30 min. Bake at 160 degrees for 30 min. and 20 min at 180 ° without the mold.
Prepare the livers by cooking them together with the chopped onion, carrot, celery and apple pieces in extra virgin olive oil, salt and pepper. Deglaze with vinsanto. Once the livers are cooked, put them in the mixer together with the butter to give the desired consistency. Line the single-portion molds with the coffee bread cut thin and shaped for the mold and fill with the pate obtained. Leave to cool in the fridge for at least 3 hours.
Presentation:
Arrange the pate on the serving dish, decorate with the spiced pear and the cooked wine sauce.
Buon Appetito!
Primi Piatti - Entree
Pasta con crema di patate - Antonino Cannavacciulo
Another strong dish of  the Neapolitan cuisine, which comes from the Cucina Povera, revisited by the MasterChef judge, Antonino Cannavaccciuolo. The Michelin Star chef,  in line with the original recipe, prepares a pasta with potato cream and basil that are a delight for the eyes and delicious to eat!
Ingredients for garlic oil:
1 clean and garlic head,  200ml extra virgin olive 
Ingredients for the potato and basil cream:
1 shallot, 1 medium sized potato, 1 litr broth, basil, 300 g mixed pasta
Preparation:
1. Clean and cut the shallot by browning it in a pan with a little oil. Add the potatoes, previously washed and finely chopped, sprinkle with the broth and cook.
2. At this point, we keep some of the cooking water and put the potatoes in a blender. We blend together with the previously bleached basil and cool in water.
4. Take the leftover cooking water and bring to the boil. Add a spoonful of oil to the garlic mix and cook the mixed pasta (if necessary add more water or broth). When cooked, add salt and add extra virgin olive oil. The final sauce must have a creamy consistency.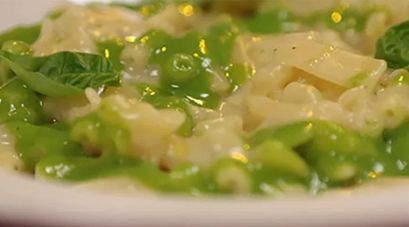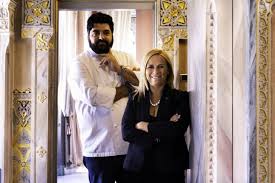 Secondo Piatti - Main Dish
Lombetto di agnello (lamb loin) Daniele Angelini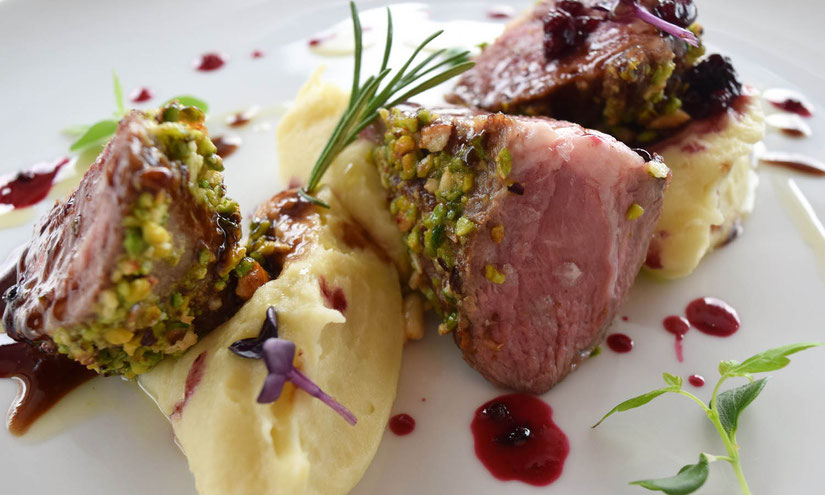 Lamb is a staple item on an Italian Easter Lunch menu. This Daniele Angelini recipe is light and elegant.
Ingredients for 4 people
2 rack of lamb about 1400 g; 500 g of Jerusalem artichoke; 50 g shallot; 100 g pistachio nuts; 50 g raspberries; 50 g red currants; 50 g blueberries; extra virgin olive oil to taste; Salt and Pepper To Taste;
Dijon mustard; 30 g Brown sugar; Vodka to taste.
Preparation:
Clean the Jerusalem artichoke, cut it into small pieces and put it in a saucepan with the shallot and oil, season with salt and after cooking, mix with a blender.
De-bone the loin and divide it into four equal parts, salt, pepper, brush with mustard and paste with the pistachio grains. Put the loin inti a hot non-stick pan with a drizzle of oil and brown it evenly on all sides.
Put the loin in a pan and then bake it at 210 ° C for 7/8 minutes. In the meantime, put the red fruits in a saucepan with the brown sugar, caramelize and flambé with the Vodka. Remove the loin from the oven and let it rest in the heat for 2/3 minutes. Place three quenelles of soft Jerusalem artichoke in the center of the dish, take the loin, cut it into three parts and place each part on top of a quenelle, add the red fruit sauce and a drizzle of extra virgin olive oil.
Buon appetito!
Dolci -  Dessert
Cheesecake con ricotta di capra e gelatina di uva Merlot –  Ottavio Macchi
Chef Ottavio Macchi of the Movida restaurant in Comerio (VA) offers this gorgeous Cheesecake recipe with goat ricotta and Merlot grape jelly from Cascina Ronchetto.
Ingredients for 8 people
200 g Digestive biscuits; 150 g of butter; 15 g of brown sugar; 300 g of mascarpone; 100 g of Philadelphia type cream cheese; 200 g of goat ricotta; 120 g of sugar; 200 g of liquid cream; 20 g of gelatin; a jar of Cascina Ronchetto Merlot grape jelly or other red wine jelly.
Preparation:
Crumble the biscuits in a large bowl then knead them with softened butter and brown sugar. Spread the dough into a cake tin with the opening edge so as to make a layer of about 2 cm and put the pan to cool in the fridge. Prepare the mascarpone mix, with mascarpone, the cream cheese and the goat's ricotta with the sugar to obtain a nice even cream. In another bowl, warm the liquid cream and dissolve into it  the  gelatin, then add tho the cheese mixture. Spread the cream over the biscuit base evenly, level it and put the cake tin to cool in the fridge for a couple of hours. Finally distribute the Merlot grape jelly over the cake, which you will have slightly heated prior in a water bath to make it more fluid. Leave the cake in the fridge until it's time to serve it, so that it is firm, and decorate it as you like with small berries