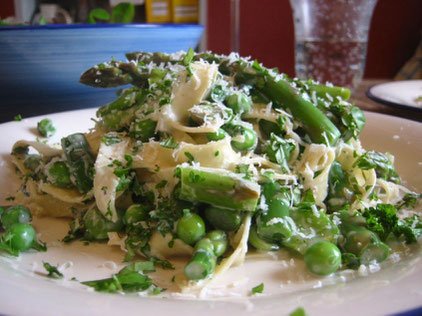 With spring being just around the corner, why not try this delicious pasta dish - Pasta Primavera from Buttalapasta. The name of this pasta dish is linked to the fresh green vegetables and herbs being used. Buon Appetito!
Recipe for Pasta Primavera
Ingredients (for 4 people)
50 g of butter; 200 g of cleaned and chopped asparagus; 100 g of new spinach
Juice and peel of an organic lemon; 25 g of flakes of almonds; grated or sliced parmesan to taste
1 clove of crushed garlic; 250 g of shelled peas; 450 g. of of tagliolini
1 handful of fresh aromatic herbs (mint, basil, parsley and fennel) minced
Extra virgin olive oil to taste
Salt and Pepper To Taste
Heat the butter in a pan, add the garlic and cook it for 1 minute.  
Add the asparagus, peas and spinach and sauté for 5 minutes or a little more if you prefer less crunchy vegetables, perhaps adding a little water if needed; season with salt and pepper.
In the meantime, cook the pasta, drain it while keeping a little cooking water aside. 
Fling the pasta into the pan with the vegetables, add the lemon juice and peel, the chopped aromatic herbs, mix to season well.
Serve the pasta in four dishes and cover with some almonds, parmesan and a drizzle of extra virgin olive oil. Buon Appetito!