Luchino Visconti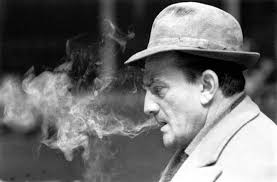 Luchino Visconti di Modrone was born in 1906 to a noble family in northern Italy, his well-bred background and international art education only seemed to enable his riotous inclinations. Visconti was both a Marxist and openly homosexual at a time when both could mean public annihilation – but he also grieved the demise of his old social class, and thought of himself as a loyal Catholic.
His films would tell diverse stories; of workers and fishermen to the aristocratic class showing the various phases of their decay and agony. He was very pedantic about having his historic film sets  replicated with the precise décor of his palaces, gardens and sitting rooms, for example the 19th-century Sicilian villa which was used for the Palazzo Salina in the Leopard, was entirely restored for the film. He created unforgettable roles and characters, such as  – the sensual, guilty Gino (Massimo Girotti) in Ossessione (1943), the lovesick Countess Serpieri (Alida Valli) in Senso (1954), or the worn-down grace of Don Fabrizio (Burt Lancaster) in The Leopard. 
He is a real representative of Italian neo-realism. He was the director of numerous historical films, characterized by precise rebuilt and distinctive scripts, which became a true symbol of Italian cinema inspiration for the directors of the following generations.
Rocco and his brothers (Rocco e i suoi fratelli)
Rocco and his Brothers is a film of 1960 in striking black and white  and set in contemporary Milan. It is a tender tale and drama, charting the fortunes of a poor southern Italian family as they move to the metropolitan north looking for work and opportunities. The family is made of an overbearing mother and five handsome brothers, including the brutish Simone (Renato Salvatori) and good boy Rocco (Alain Delon). The brothers fall into the city's pursuits: factory work, nightlife, boxing gyms, and eventually crime. When both Rocco and Simone fall in love with local prostitute Nadia (Annie Girardot), tragedy unfolds.
The early 1960's saw Italian mass migration to urban centres, such as Milan, causing considerable interruption to the more rural, traditional ways of life. Visconti follows this volatile transition with typical melodramatic twits, up until the moment when the warmth of old-school family loyalty, finally fails. Rocco, the film's patron saint, suffers through it with quiet, heart-wrenching humility.
The  Leopard (Il gattopardo)
Visconti started to film The Leopard in 1962 in Sicily, a three-hour adapation of  (1963)of Giuseppe di Lampedusa's novel The Leopard, he had a budget of  $5 million budget (which then was a vast amount of money for a movie) from Twentieth Century Fox, and great actors such as of Burt Lancaster, Alain Delon, and Claudia Cardinale.
His interpretation of Lampedusa's novel is set in 1860s Italy during the Risorgimento, capturing the fading aristocracy and its bitter last gestures. The revolution sweeping the nation does not thrill proud Sicilian prince Don Fabrizio (Burt Lancaster), who ponders throughout the film on those who will ascend to power after him.
His dashing nephew Don Tancredi (Alain Delon) is a political opportunist who fights for the new regime, and the movie focuses mainly on Tancredi's advantageous marriage to the beautiful and rich Angelica (Claudia Cardinale). The final half-hour sequence – of an opulent ball in a luxurious palazzo – is fascinating. The camera slowly floats through the corridors, lingering as if to etch every detail into memory. Don Fabrizio passes through the corridors and rooms like a phantom, indicating that this may very well be the last event of its type. You cannot help to be moved by his dignity and sadness.
Death in Venice (Morte a Venezia)
In 1971, Luchino Visconti filmed Death in Venice, a little over a decade after Thomas Mann's death. It is no coincidence that Visconti decided to shoot the film, considering the deep admiration he had for the writer. This admiration is testified by the fact that, as a young man, Visconti brought with him, wherever he went, two fiction books: one was a novel by Andre Gide and the other was Death in Venice. Based on Thomas Mann's novel Death in Venice, Morte a Venezia follows the journey of the composer Gustav von Aschenbach, who leaves Germany for a vacation at the Lido in Venice. "In the luxury hotel at which he is staying he meets Tadzio, a beautiful and enigmatic Polish boy, the oldest of four children, who troubles his senses and stirs his imagination. A living symbol of the classic measure that Aschenbach has pursued in his own work and not been able to achieve, Tadzio soon becomes an obsession. [...] In the meantime a cholera epidemic takes grip, and the city's humid alleys, disinfected to avoid contamination, are filled with a pungent and sinister odor, which in combination with the sirocco produces an enervating climate. In this stale atmosphere [...] Aschenbach's spirit and body begin to waste away. [...]  The combination of the smoothness of the camera movements and the cutting of the sequences, transforms this film into an aesthetic experience.