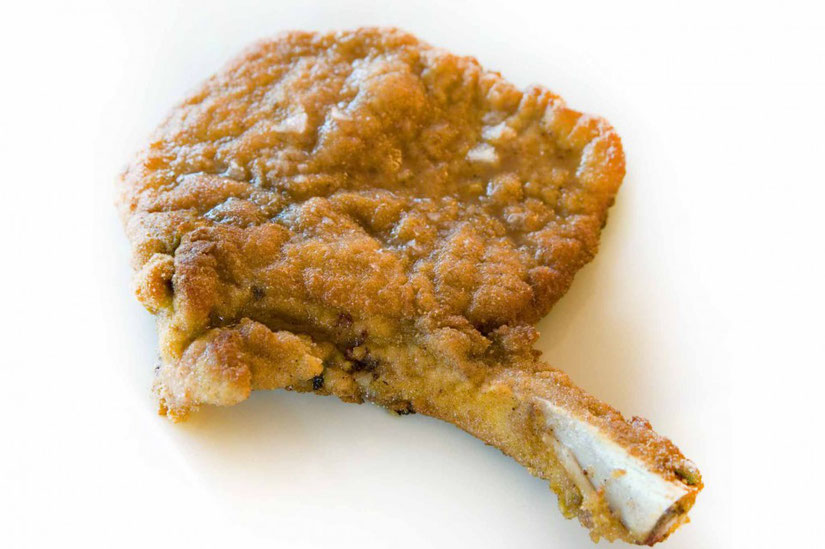 The  Costoletta alla Milanese cutlet  is being described in writings from 1148 and is one of the typical and most famous dishes in Milan.
This Milanese dish has always been a favorite among children and adults. There are those who prefer it thin and crunchy, or those who love it  with the bone and slightly pink inside.The secret is the quality of the meat, tender veal and the double breadcrumb coating. Thanks to a cooking in abundant clarified butter, the coating will become crisp and will stick nicely to the meat. To go with the Costoletta are either fried or cooked potatoes.
Cotoletta versus costoletta  - costoletta mans "little rib", so if the rib remains attached to the meat during and after the cooking it is called "Costoletta alla Milanese", otherwise "Cotoletta alla Milanese".
Recipe for the ideal Costoletta alla Milanese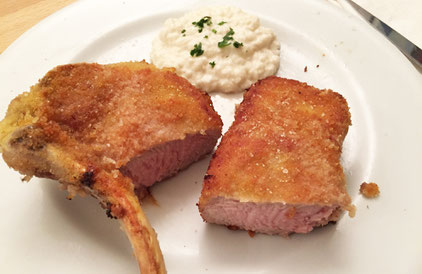 Ingredients:
Veal loin 1 kg; Large eggs 4; Breadcrumbs 300 g
Clarified butter 300 g; Maldon salt to taste
Preparation:
To prepare the Milanese cutlet, first cut the cutlets from the veal loin. To do this, cut the meat by sliding the knife between one bone and the other in order to obtain 4 ribs of about 250 g each. At this point, grate the bone with the tip of a knife , so as to clean it completely from the cuticles. Using a meat tenderizer, beat the meat lightly, so as to uniform the thickness but without flattening it. Using the knife again eliminate unnecessary nerves , and set the meat aside. In the meantime break the eggs into a bowl  and beat them with a whisk. Then transfer the breadcrumbs to a large plate. Taking the meat, place them first the breadcrumbs,then dip them into the eggs and then again into the breadcrumbs, pressing well with your hands so that the breading sticks better. Finally draw with knife a slight grid, impressing first a horizontal line and then a vertical. As soon as the butter is hot but not too hot, place the meat into the pan. After about 4 minutes, the Costoletta will be well browned, then turn them  and with a spoon, collect a bit of cooking fat and sprinkle it on the Costoletta.  The cutlets will have to cook for about another 4 minutes, this time depends in any case on the thickness, but  you want to have the meat pink inside. Once the cutlets are ready, using pliers transfer them to a plate with absorbent paper and always with a sheet of paper, gently dab them , to eliminate excess fat. At this point everything is ready you just have to serve; slightly salt.  You can serve with either cooked or fried potatoes. Buon appetito!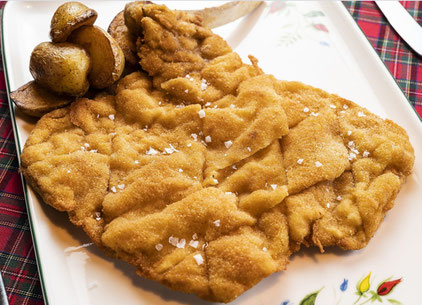 If you are ever in Milan, and want to know where to eat the famous "Cotoletta alla Milanese", why not try Al Garghet, located not in the most chic neighborhood of Milan. But here it will be cooked according to the proper Lombardian tradition.