Italy is know for some of the most elegant and talented TV and film entertainers, singers and actors - all very strong women with their unique style and flair. They have had a large impact on Italian music, films and TV, but also globally. We are featuring a few of these artists, but cannot attempt to cover them all.
Mina Mazzini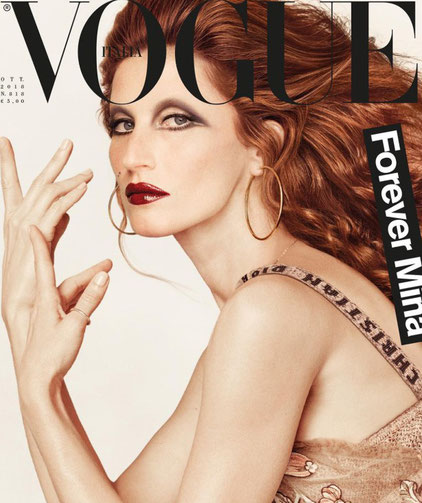 Mina Mazzini, or simply Mina, is without doubt, one of Italy's greatest voices, and her style and fashion sense over 30 years, combined with her unique gestures created this very particular image of the the "Tiger of Cremona". The way she would wear tunics, with stylish sleeves and cuffs, and organza details around her neck, added drama to her performance. She loved using costumes with lots of sequins and sumptuous feather applications, all elements that defined her as a 1960s Italian television diva. Marucelli, Ken Scott, Mila Schön, Jole Veneziani and Krizia are among  her favorite designers. And Vogue Italia magazine dedicated a complete edition to her, with Gisele Bundchen imitating her style on its covers.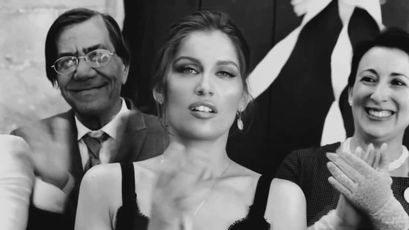 Dolce & Gabbana has chosen Mina's songs in their advertising campaigns for their perfumes, using her two famous songs "Il cielo nella una stanza" and "Citta Vuoto", both very successful campaigns.
Made in Italy fashion and tailoring have always constituted a fundamental role in Mina's career.
Rita Pavone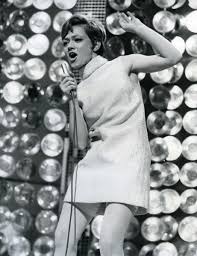 Rita Pavone is an Italian ballad and rock singer and actress who enjoyed success through the 1960s. And she also is an actress. The famous song "La partita di pallone" at age 17, made her a national star, and international attention soon followed. When Rita burst onto the Italian music scene in the early 1960s, she embodied a female model very different from the one en vogue at that time: her short hair, her freckles, and her singing in a wild, screaming, rock way. Initially thought of as scandalous, the young people though saw her as a role model to follow. A year after the release of one of her best-known hits, "La partita di pallone" (for which she got her first gold record), thanks to her unusual image, Rita caught the attention of Umberto Eco ( who analyzes it in his essay "Apocalyptic and integrated" of 1964 as a phenomenon of custom). She was seen in a role of intermediary between the new generations and the adults. A number of her songs confirmed this positioning, with her song«Il Geghegè»), which introduced a sort of guide for new twist dances at the time and also innovative games in her song «Plip». 
At this year's SanRemo Festival of Music, Rita Pavone performed to standing ovations.
Ornella Vanoni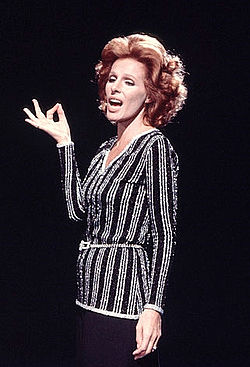 Ornella Vanoni, a singer who brought a level of sophistication to Italian Pop music, started her career as a stage actress in 1960. When she started to become popular with her folk songs interpreted in her own unique style, she became  In the days when Vanoni became popular with her folk songs and popular compositions all interpreted in her own unique style, she established herself as the "Cantante della mala" (singer of the underworld) as she sang songs about stories of the underworld.
The ultimate boost to her career, were two unforgettable songs, written by Gino Paoli in 1963, "Senza Fine" and "Che cosa c'è" which won the first prize at the Neapolitan Song Festival. She continued her success with wins at the Sanremo Song Festival and her recordings and hits. She became known as the Italian Pop Diva.  She further strengthened her reputation as an outstanding singer with songs such as "Una ragione di più," "Un'ora sola ti vorrei" and "L'appuntamento,"When her famous song "L'Appuntamento" of the 1970s was used on the soundtrack of the Hollywood film "Ocean's Twelve," Vanoni experienced another wave of fame, and her song "Perduto," which became famous in 2009, became the number one song on the iTunes chart and one of the most frequently played songs on Italian radio.
Raffaella Carrà
 Raffaella Carrà''s  impeccable blonde bob, first adopted in the early 1970s and almost identical ever since; the bellybutton, displayed in the years of television censure and her elegant mischievousness and excess but carried off with irony, truly established her as a TV star. Her color palette of white, black, red and gold; the waterfall of crystals that made an innocent smile unforgettable, and a special type of crepe fabric to sheath the sexy movements made her performances alluring to watch.
She has become an Icon of the star system and symbol of feminine assertiveness, adored and celebrated across various backgrounds from television, fashion, gay activism to housewives and intellectuals. Raffaella Maria Roberta Pelloni, stage name Raffaella Carrà, who celebrated 75 years last 18 June, of which 66 were spent in front of the cameras of global cinema and television, is an example of how success can be won and maintained by staying true to oneself.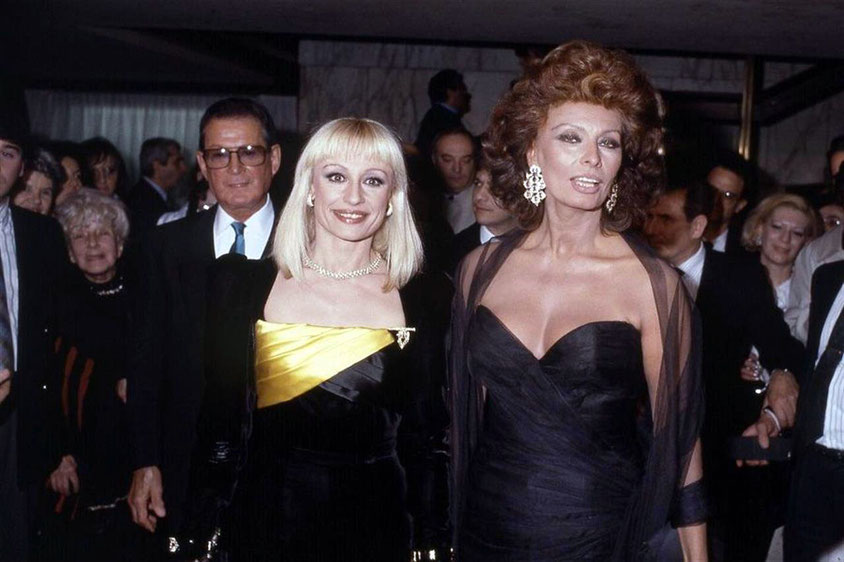 Raffaella Carrà is undoubtedly one of the best known Italian artists in the world thanks to her multifaceted talent, but also to the looks and the amazing stage costumes that have truly amazed everyone from the sixties to today. Her early career as an actress took her even to Hollywood, but her success Raffaella Carrà achieves in the seventies, when she decided to concentrate on her career as a TV presenter and singer.
Raffaella Carrà invented a new style of show performance, revolutionizing the television shows of that time , somehow "scandalizing" the shows with her bold looks with her navel uncovered, and the unleashed movements of her dances.
With the songs Rumore, A Far L'Amore Comincia Tu Tu and Ma Che Sera, the singer entered the charts of many countries around the world. The eighties are those of the great television shows, with programs designed for her, including: Pronto, Raffaella ?, Buonasera Raffaella, Raffaella Carrà Show and Raffaella on Friday, Saturday and Sunday ... And they became extremely popular. The 10 editions of Canzonissima and those of Fantastico and Carràmba are also unforgettable! between the 90s and 2000s.
Since 2006, she has returned to the music charts with important collaborations including that with Tiziano Ferro, with the song E Raffaella È Mia, or the remix of Far L'Amore together with the French DJ Bob Sinclar.
Throughout her career, Raffaella Carrà has differentiated herself also thanks to her unique and always recognizable look, with the iconic bob haircut, sometimes anticipating the fashions of the moment, from the eighties shoulder straps to the seventies flared trousers , from the tight-fitting overalls of the Sixties, to the stalked bodysuits of the Nineties - firmly establishing her own brand.
Gigliola Cinquetti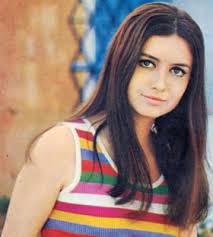 Gigliola Cinquetti won the Sanremo Song Festival in 1964 at age 16 with the song "Non ho l'età".  Her win enabled her to represent Italy in the Eurovision Song Contest 1964 in Copenhagen with the same song, where she claimed her country's first ever victory in the event. Cinquetti became the youngest winner of the contest to date, aged 16 years and 92 days. The song became an international success, even spending 17 weeks in the UK Singles Chart and ending the year as the 88th best-selling single in the U.K. in 1964,something highly unusual for Italian-language material. It sold over three million copies, and was awarded a platinum disc in August 1964. In 1966, she recorded "Dio, come ti amo", which became another international hit. In 1974, Cinquetti took part in the Eurovision Song Contest again, this time held in Brighton, Sussex, United Kingdom. Her song was called "Sì" which became quite controversial in Italy at the time, with a referendum on the legalisation of divorce underway. It came second to Swedish foursome ABBA with their song "Waterloo".
Gigliola will participate 12 times in the Eurovision contest, the last in 1995, changing her image over those years. Already her song "Non ho l'età" positioned her as a model of conscious femininity, more androgynous than sexiness, probably closer to Audrey Hepburn than to Sofia Loren. She said: «I was young but I already understood that I would never accept subordination to a male, I wanted a intellectual understanding with a man rather than a seductive approach ».
Her worldwide success, perhaps, also derives from this. With «Sera», then, she unties her hair and makes up her eyes. With "La pioggia", she wears a miniskirt. "There were many who did not understand that things were changing, journalists who criticized me severely," recalls the singer, who also released a novel in February, "Traveling with her". "I've always been proud," she concludes, "to be disliked by traditionalists."