10 dishes dedicated to Gioachino Rossini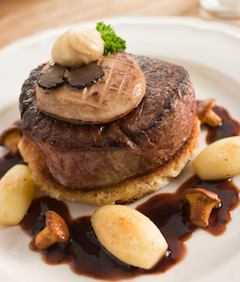 Rossini can claim at least 10 different dishes dedicated to him.  If he had not been the composer he was, he undoubtedly would have been a famous cook or food critic. It has been recorded that the young musician raced through his account of the opening night of the Barber of Seville, to plunge into a detailed and lengthy description of a new recipe for a salad which, naturally, became Salade alla Rossini. In his biography of the Maestro, Stendhal wrote that the aria of Tancredi, "Di Tanti Palpiti," known throughout Europe, was not only the most popular opera aria of its time, but was familiarly refered to as the "rice aria" because Rossini composed it while waiting for his risotto to cook one day in Venice.
The invention of the famous Tournedos Rossini has become a legend. It is said to have occurred at the Café Anglais in Paris. The story goes that Rossini insisted upon overseeing the preparation of his meal and asked the chef to prepare it in front of him in the dining-room next to his table. When the chef finally objected to this constant interference, the Maestro replied, "Et alors, tournez le dos." or "So, turn your back." And that is how this savory dish got its name!
Tournedos alla Rossini Recipe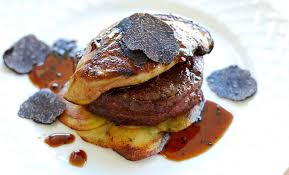 Ingredients for four people:
Four 150g tournedos of filet steak - each 3 cm thick
Four slices of bread; 150g of butter; a glass of Madeira
A spoonful of flour; a glass of stock; 1 decilitre of demi-glace sauce
Four round shapes of foie gras, floured and sautéed in butter; four slices of Norcia truffle cut quite thick, salt and pepper.
Tie the tournedos so that they keep their shape in cooking. Cut the slices of bread to the same size as the tournedos and brown them lightly in a little butter in a pan. Place the tournedos on the butter and cook over a high flame on both sides for about three minutes.
Then add salt and pepper, remove from the pan and place on a warm serving dish or keep them warm in a bain-marie. Blend the last piece of butter with the flour and put the mixture into the sauce; then dilute it with the boiling stock, pour in the Madeira and mix it with the cooking sauce. Add the demi-glace and cook over a low flame, stirring continuously until the sauce thickens. Place the tournedos on the bread and decorate with round slices of foie gras (which should be slightly smaller than the tournedos and which have been braised in the same pan on a very hot flame for fifteen seconds each side). Cut twelve discs of truffle and place three on each tournedos.
Pour over the sauce, add the rest of the chopped truffles and serve immediately.
Some of the dishes dedicated or created by Rossini, include the Insalata alla Rossini, Maccheroni alla Rossini and Risotto Rossini.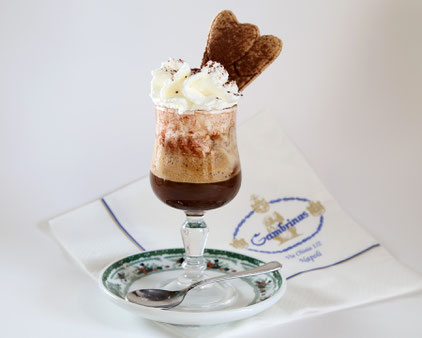 Rossini's favorite coffee was 'La Barbajata', which was created for him by Cafe Gambrinius, the famous cafe in Naples, while he was writing 'Othello'. Domenico Barbaja commissioned him to create this opera, in return he provided Rossini with his beautiful palace, Palazzo Barbaja,in the center of Naples.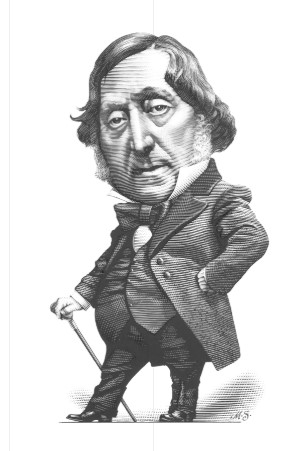 "After doing nothing I don't know any more delicious occupation for me than eating, eating properly, mind you. The appetite is for the stomach what love is for the heart."
Giacomo Puccini preferred 'La Cucina Povera'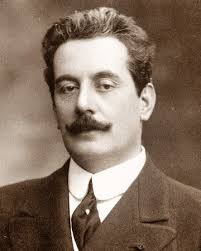 As a music student in Milan, Puccini, in contrast, was largely broke. 'In the afternoon, when I have money, I go to the café,' he told his mother. 'But many evenings I cannot go, since a punch costs 40 cents. I do not starve. I stuff myself with thin broth of minestrone and the stomach is satisfied.' No wonder so much of his 'La bohème' is taken up with food!
By the time he was living in Torre del Lago, however, Puccini was a wealthy man. He formed a Club Bohème, where he would cook pasta with eels for his male friends or roast them pheasant and partridge that he'd shot at the lakeside.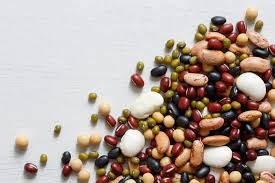 One of his preferred ingredients were beans of all shapes and sizes. He would cook with the entire range of beans such as borlotti, spagnoli, zolfini, fagioli di Lucca, cannellini, fagioli di sorano, piatelli...According to an anecdote, he often went to visit his elderly sister Sister Angelica, a nun in a convent in Lucca, driven above all not by brotherly love, but from the passion for cooked beans to the flask, he ate at the refectory (.. 
Fagioli al Fiascoi alla Puccini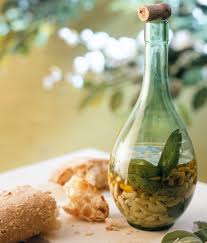 Ingredients
Dried beans - water - olive oil - garlic - sage - black pepper
Preparation
Take some dried beans and soak them from the previous evening. In a terracotta flask, put the legumes, olive oil, cloves of garlic, sage leaves and add plenty of water to drown the beans. Close the flask with an earthenware stopper, in order to let the steam out during cooking and place it in a bed of embers, taking care that the liquid never boils. Leave to simmer for five or six hours. Serve the beans in a flask seasoned with a cascade of olive oil and ground black pepper.
Risotto alla Tinca - one of Puccini's favorite risottos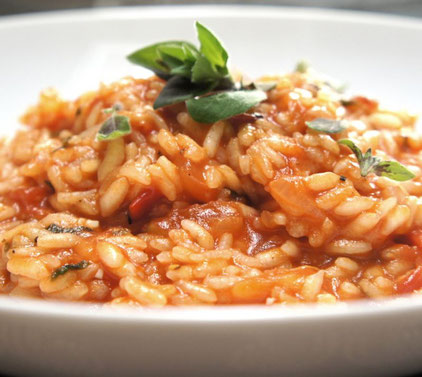 Ingredients for 4 people
1 tench (freshwater carp) of 700 grams; 300g rice; 4 tomatoes; 1/2 a glass of extra virgin olive oil;  1 glass of dry white wine; garlic, parsley, basil, chilli pepper and broth.
Preparation
Make a mixture with parsley, basil, garlic and chilli pepper and brown in a pan with oil. Add the tench(fish) cut into large pieces and let it  brown; sprinkle it with white wine until it evaporates. Remove the tench, decapitate it, fillet it and pass it to the passatutto (tomato press) together with the cooking base. Put the tench pulp back in the pan, add tomato and tomato purée without seeds; cook for about twenty minutes. Pour the rice into the pan, let it flavor and cook it in the classic way, adding broth little by little. Serve with a little chopped fresh parsley.
Giuseppe Verdi - the greatest composer and master cook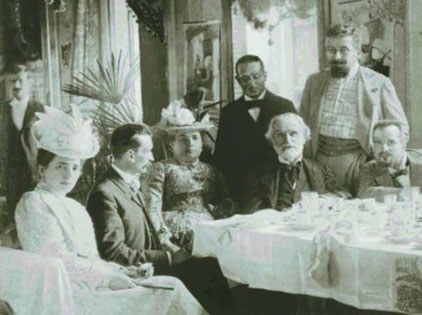 Verdi was a serious connoisseur of food with refined taste due to him being also a hobby farmer. He personally studied the recipes and was very demanding with the cooks. An artist who, as such, considered lunch as a work of art.
Giuseppe Verdi's passion for cooking and good food originates from his native region, Emilia Romagna, specifically the  areas around Piacenza and Parma.
His interest in good food is also evident  in the many letters written by himself and his life partner, Giuseppina Strepponi, which contained suggestions, recipes and cooking anecdotes.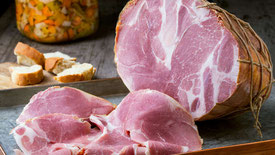 Among the most beloved products in the Verdi house, the Spalla cotta di San Secondo, a traditional  ham also served in the inn of the Maestro's family, as well as the famous Anolini, a pasta type typical for this region of Italy.
As a true ambassador for his regional cuisine, he would often sent delicatessen products and cheeses to his friends from his Villa Agata. He would also organize festive lunches at his house with the typical Emilian products and cuisine. In fact, he preferred the simple and traditional recipes to the extravagant dished served in the famous restaurants that he often had to attend for work reasons.
Great chefs have dedicated dishes to him, such as the French Henry-Paul Pellaprat (1869-1952) who dedicated a risotto with mushrooms, asparagus and cooked ham to the Maestro (recipe below). Among the recipes inspired by Verdi there are also Spaghetti alla Traviata, a tasty recipe with patriotic colors, based on tomatoes and fresh basil.
Risotta alla Giuseppe Verdi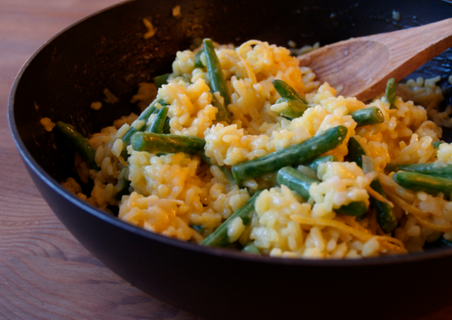 The idea of this dish came from the French chef  Henry-Paul Pellaprat who dedicated it to Guiseppe Verdi.
Ingredients for 6 people:
450 g carnaroli rice
150 g butter
100 g mushrooms
100 g asparagus tips
100 g prosciutto
100 g peeled tomatoes
1 dl cooking creme
25 cl beef broth
Parmigiano Reggiano grated q.b.
½ onion finely chopped
Preparation:
In a saucepan, brown the onion in butter; add the sliced mushrooms, the asparagus tips, the ham cut into julienne strips, the chopped peeled tomatoes. Add the rice and let it dry slightly, then sprinkle with the broth; halfway through cooking add the cream, stirring gently. When the risotto is ready, stir in butter and cheese, then serve.