Aurelio Zen -  the Gourmet and Wine connoisseur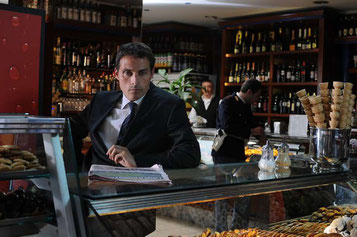 Michael Dibdin's character Aurelio Zen in his first episode, Ratking, where he is being posted to Perugia to investigate a kidnapping. In Perugia, Zen discovers Crostini umbri, Frittata ai tartufi and Lepre alla cacciatore. In the episode, Cosi fan tutti, he is in Naples and in Himmelfahrt he investigates in Rome. In the Sardinian episode, Vendetta, the author describes a dinner table setting with Focaccia Sarda, Culurgiones sardi and Pernice con lenticchie. In the Tuscan episode, And then you die, he is recuperating from a bomb attack and enjoys local specialities such as Crespelle ripiene agli asparagi e zucchini, Tonno con cipolle e fagioli, Rigatoni strasciati alla fiorentina, Arista alla fiorentina and Riciarelli. Aurelio Zen, the gourmet and wine connoisseur is keen to travel to the Piemont in another episode, A long Finish, to discover truffles and the local Barbaresco. 
The famous Culurgiones Sardi Recipe
Pasta ingredients
Durum wheat semolina flour 300 g; Water 1 dl; 1 teaspoon Salt 
Ingredients for the filling 
Red Potatoes 1 kg;  oil - extra virgin olive oil half a glass; 2 cloves garlic; mint 6/7 leaves; fresh pecorino 300 g.
Cook the potatoes, once boiled, peel them and reduce them to a puree with a potato masher; gradually add the oil, the finely chopped garlic and the minced mint. Gradually incorporate the fresh pecorino, until obtaining a smooth and consistent mixture for the filling. Let the mixture rest for a few minutes and in the interim, prepare the culurgiones pasta. Work the flour with the water and salt very vigorously until the dough has reached a certain elasticity which will allow it to be stretched into thin sheets. At this point, cut disks of 6/7 centimeters in diameter; on the middle of each disc lay a quantity of filling mixture as big as a small walnut, cover with the other half of the disc, and weld the 2 superimposed half circles, with a thin stapling practiced with the fingertips. The end result will be a ravioli in the shape of a pressed fig. Cook the pasta in salted water for 6 or 7 minutes and season with a tomato sauce and plenty of grated pecorino. Buon appetito!
Zen's favorite dishes in the Perugia novel
---
Commissario Montalbano loves the traditional Sicilian cuisine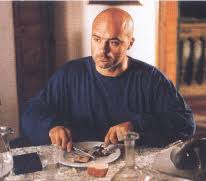 The favorite dish of Commissario Montalbano: Pasta 'ncasciata. Montalbano is a real food lover and his  preferences is obviously the Sicilian cuisine. Above all, he loves fish dishes, and either before or after eating, he loves going for a swim just outside his Casa Marinella. In order to solve the complicated cases , he indulges in gourmet  breaks  where he does not allow any talking while eating in order to focus 100% on the glorious food. Sicilian specialties his  housekeeper Adelina prepares for him, are the arancini, le melanzane alla parmigiana, la caponata di melanzane  etc.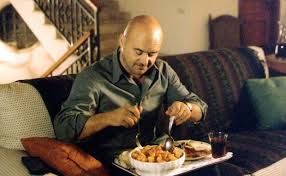 "Andò a casa, si mise il costume da bagno, fece una notata lunghissima, rientrò, s'asciugò, non si rivestì, nel frigorifero non c'era niente, nel forno troneggiava una teglia con quattro enormi porzioni di pasta 'ncasciata, piatto degno dell'Olimpo, se ne mangiò due porzioni, rimise la teglia nel forno..."**
He went home, put on his swimming trunks, swam for a long time, returned home, dried himself, but didn't change his clothes, there was nothing in the fridge, in the oven was a baking dish with four generous portions of pasta 'ncasciata, a dish Worthy of Olympus, he ate two portions, put the form back in the oven ... "
Montalbano is mad about Pasta 'nasciata!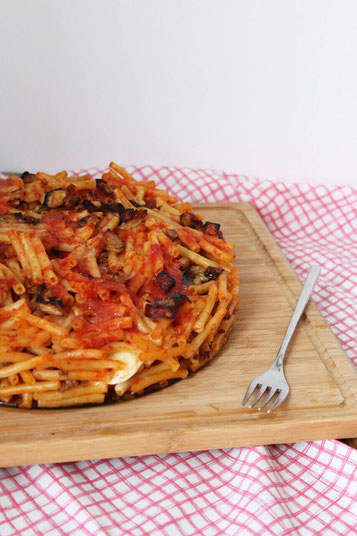 This recipe is dedicated to the character of Commissario Montalbano, created by the author Andrea Camilleri: Pasta 'ncasciata. Like all genuine regional recipes, this rich  baked pasta dish, has many variations. We propose pasta 'ncasciata made with passata, boiled eggs, mortadella and fried eggplants. Add a seat at the table: who knows if the pasta 'ncasciata is good you may get a call from Montalbano himself to taste it!
Ingredients:
Ragù
200 g minced beef; 1 small carrot; 1 piece of celery stalk; 1 onion; 1 clove of garlic; 1 tin of peeled tomatoes - approx. 400 g,  1 glass of white wine; Extra virgin olive oil; Salt, freshly ground pepper; 1 eggplant; coarse salt; Extra virgin olive oil; 2 hard boiled eggs; 100 g caciocavallo (Italian cheese); Bread crumbs; 250 g Maglie siciliane (Sicilian pasta, alternatively Sedanini); Parmigiano Reggiano, freshly grated; a few basil leaves; coarse salt
Cut the carrot, celery stick and onion into fine cubes, finely chop the clove of garlic. For the soffritto, slowly sauté the vegetable cubes in olive oil over a low flame. Add the minced meat and fry until crumbly. Deglaze with the white wine and let it boil down a little. Add the peeled tomatoes and cover and cover the ragù, simmer for about an hour and a half over mild heat. Stir every now and then. Cut the eggplant into cubes, place in a sieve, sprinkle with salt and let steep for half an hour. Then rinse the eggplant cubes and pat dry with kitchen paper. Heat the olive oil in a pan and fry the eggplant cubes. Remove from the pan and place on kitchen paper until further use.
Preheat the oven to 180 degrees (top and bottom heat). Spread a baking dish with a little olive oil and sprinkle breadcrumbs on the bottom and edges. Put water on when it starts to boil, add coarse salt and the pasta. Cook pasta very "al dente" (about 3 minutes less than stated on the package). Drain. Cut the hard-boiled eggs and the caciocavallo into cubes. Add the pasta together with the cheese, the egg and eggplant cubes and a little basil to the ragù. Mix in gently, put on a lid and let the cheese melt briefly on mild heat. Check that nothing burns on the bottom of the pot. Then pour the contents of the pan into the prepared baking dish and sprinkle generously with grated Parmigiano. Put in the oven for twenty minutes, and then serve. Buon appetito!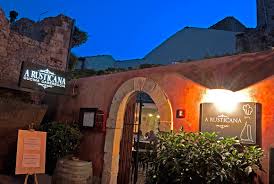 Montalbano, whose passion for detective work is equaled only by his love of good food, is a regular lunchtime client of "Trattoria San Calogero", which in real life is Trattoria La Rusticana (Corso XXV Aprile).
Montalbano's favorite dishes includes: Pasta 'nasciata a' missinismi, Caponato di Melenzane, Alici con cippolata, Pasta con le sarde, Pasta al nero di seppia, Trieglie di scoglio con la salsetta, aglio e prezzemelo, Pasta alla carretierra, Baccala a la ghiotta, arancini.....
Venetian Cuisine  takes a centre stage in Donna Leon's Commissario Brunetti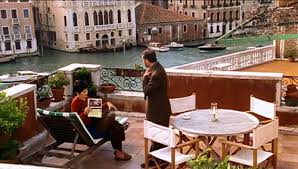 Eating fusilli on the terrace
"Even though it was still quite cool, they had decided to have lunch on the terrace. But the sun was warm and while he reached for a plate and from a large bowl in the centre of the table, spooned up fusilli with green olives and mozzarella, he felt the sun on his back. It was a bit early in the season for a dish like this, but Brunetti rejoiced in the sight and scent of it. " From the Girl of his Dreams.
Fusilli with Green Olives
---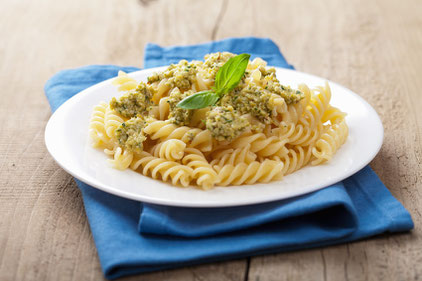 Serves 4
8 tablespoons extra virgin olive oil; 2 celery stalks, finely chopped; 1 carrot, finely chopped; 1 shallot, finely chopped. 1/2 teaspoon salt; a pinch of dried chili flakes; 3/4 cup green olives, stoned and finely chopped; 340 g fussili; 1/2 cup Parmesan cheese grated.
Heat the oil in a large non-stick pan or casserole and add the celery, carrot, shallot, salt and chili. Cover and cook for 30 minutes over medium heat, adding a little hot water from time to time. When the vegetables are cooked, add the olives and leave to simmer for 2 mintues. The resulting sauce should be fairly thick. Cook the pasta in boiling water and drain. Stir into the olive sauce, add the Parmesan and serve.
(From Brunetti's Cookbook. Recipes by Roberta Pianaro and Culinary Stories by Donna Leon)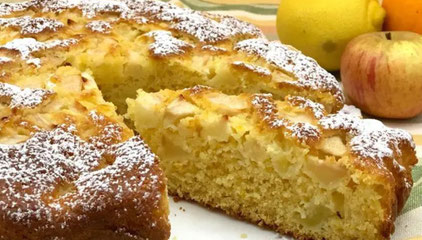 Paola's famous apple cake
"Paola went to remove the round top from the porcelain cake dish. Inside it, as Brunetti had hardly dared to hope, was her apple cake, the one with lemon juice and Grand Marnier. 'Your mother is a saint', he said to the children. (From A Sea of Troubles)
1/2 cup and 2 tablespoons butter; 3/4 cup sugar' salt; 2 medium eggs - beaten; 1 1/2/  cups flour; 1 teaspoon baking powder; breadcrumbs; 1 kg apples; juice of 1/2 lemon; 100 ml Grand Marnier; 1/3 cup candied orange peel, chopped.
Place 1/2 cup of melted butter, 1/2 cup of sugar, and pinch of salt in  a bowl and mix thoroughly. Add the eggs, continue stirring and finally blend in the flour and baking powder. The resulting dough should be soft enough to be spread out on the bottom of a cake tin measuring 25 cm in diameter. Butter and sprinkle with the breadcrumbs. Peel the apples, cut them into thin slices and place them in another bowl. Splash with the lemon juice and add the remaining 1/4 cup of sugar and the 2 tablespoons of melted butter. Mix well, adding the Grand Marnier and finally the candied orange peel. Pour over the dough and level out at the surface. Place in a preheated oven and bake at 180 degrees for at least 1 hour.
(From Brunetti's Cookbook with Recipes by Roberta Pianaro and Culinary Stories by Donna Leon).