Michelangelo Antonioni's characters were always in crisis, but they  always dressed well.  The display of luxurious accessories such as fur and jewelry, was used to demonstrate their longing for something for a self that did not exist. The costumes in Antonioni's films speak in the most subtle way.
Along with La dolce Vita, l'Avventura introduced the world to a new Italian style and fashion after the post-war realism. Italian fashion, which had started to become internationally known, especially thanks to the cinema, became crucial in the economic recovery of the country.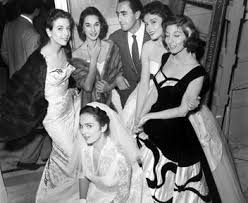 A lot of the Antonioni films featured women's fashion from Italian Designers such as Biki and Sorelle Fontana. The clothes were used by the female characters to express the integral part of their personality. Italian Fashion became also know by Italian actresses such as Alida Valli and Valentina Cortese who made films in the US in the 1940's. Later-on, by Sophia Loren and Gina Lollobrigida. But even US actresses such as Joan Bennett were visiting Sorelle Fontana for dresses, and Brioni was popular among actors such as Clark Cable, Henry Fonda and John Wayne.
Fashion and Style in Italian TV Noir Series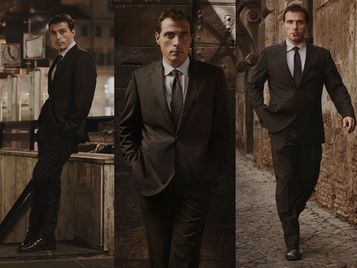 The BBC collaboration (alongside ZDF, Mediaset, and Masterpiece) based on the novels of the late Michael Dibdin, ranks so far as 2011's most stylish series. Rufus Sewell plays Venetian transplant Aurelio Zen, working in Rome, where politics and corruption are abundant and and the cases are convoluted. The suits and the overall cinematography that make Zen so watchable for fashion-lovers.
---
Fashion in the TV Series Commissario Montalbano has a fairly simple chic, and fit the hot Sicilian climate. On elegant and unmistakable look that of the character created by Andrea Camilleri. Obviously sun glasses are worn continuously, and the men sport suits, and drive fast cars. Women are portrayed as  feminine, sensuous but strong Italian women. Every little detail has contributed to the success of Commisssario Montalbano. The character created by Andrea Camilleri, back from the television success of the new series, is loved not only for his exemplary courage, for his intuition or sense of duty, for humanity and his weaknesses. It also conquers its style, elegant and always absolutely sober. Salvo Montalbano's outfit is unmistakable: complete with shirt and jacket, never a tie. The choice of colors prefers shades of beige, brown, dark blue, black. His carefully studied look contributes to the charm of the character. He is a man of the world, practical, but never gives up on style. His casual chic selection in clothing is always spot on, in line with his strong and sensitive character.
---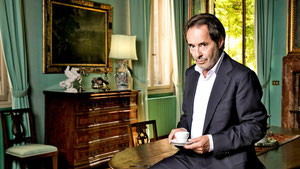 In the TV series, based on Donna Leon's novels of Commissario Brunetti, he is portrayed as a very social thinking and acting person. His strength - he observes, and above all: he listens without judging quickly. The experience he has gained in solving many enlightened cases, his insight into the reasons and abysses of human misconduct and crimes, has kept his understanding of the fine line between "good" and "evil" alive. For him, his family is the place for freedom and happiness. In the TV series, Venetian grand chic comes across in every single take. Male Characters are well dressed in navy Italian suits, and the women have a stylish well coordinated appearance. Brunetti's wife is part of a Venetian aristocratic family, and gatherings in the palazzo or restaurants are showing a beautiful elegant imagery.