Italian designers, be it for everyday products, furniture, fashion or ceramics are known all over the world for their unique designs and quality. We are highlighting here a few family-owned furniture and interior businesses, who have developed their unique design style and character, 'Made in Italy'. 
Tacchini - Modern Italian Furniture & Interior Design

Tacchini, is  a reference point in the Italian furniture business, thanks to its stylistic and functional design, and strong project and product culture. With its furniture, Tacchini wants to improve the quality of home and public spaces, in a world dominated by constant changing needs, technologies and new lifestyles. That's why Tacchini always analyses and improves its products and services underpinned with creativity and responsibility. The result are a flow of original and versatile solutions, suitable for every environment and situation, and aligned to the changing customer needs.
In Italy, design companies bear the names of the families that founded the brands. Like Tacchini, created in 1967 by Antonio Tacchini, when production, too, was almost entirely Italian. It's philosophy is based on design not being considered in isolation from external constraints and influences. 
This is why Tacchini maintains a dialogue between its designers and their clients. so as to grasp and interpret the thoughts of the client.  This enables it to express the quality of its products, using the best materials and complying with the strictest standards and certifications. Places of work or play, hotels, stadiums, wellness centres or shopping malls, all become the stage on which Tacchini can express the uniqueness of its designs, their durability, comfort and versatility. 
Smania - Luxury Italian Furniture & Interiors
It all began thanks to the creative inspiration of Alberto Smania, who worked in iron manufacturing. His innovative journey began with him combining the iron scraps, to create his first low table. This innovative drive combined with constant research for originality and beauty, characterizes Smania even today.
It is but a short step from iron to wood: tables, chairs, beds, bookcases are created; pieces of furniture characterized by an increasingly high, sophisticated and daring aesthetic taste. In the 80's, polyester with its immense strength is added to the range of materials for furniture design. Smania was first in the industry to use it, and with its success he starts expanding overseas.
Wengé, the tropical timber, becomes part of Smania creations. Its dark shades are ideal to convey the force of the Smania design character. Along with crocodile printed leather, the search for new materials continues nonstop.
The designer Alessandro La Spada begins his collaboration with the company, drawing some of the products so far designed by Smania brothers, Alberto and Fabrizio. The horse, previously introduced by Alberto as a decorative element in his 'Made in Italy' furniture becomes the hallmark of the company.
Whether individual furniture or entire interiors for residential properties, offices, restaurants, resorts or yachts, Smania is able to tailor to client's specific requirements. Thanks to MyMood the clients can customize Smania products following their own style and that of the room they want to furnish. 
Casamilano - Sustainable Italian Furniture and Design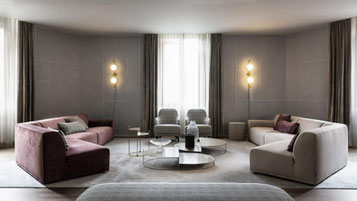 Founded in 1988, Casamilano is a family run Italian business that focuses on creating furniture of the highest quality, while fully respecting the environment. The entire Casamilano production is completely Made in Italy and guarantees a strict and accurate control of all the various stages of production. The raw materials and all the components are selected, in full respect for the environment. The timber used for production comes from planned reforestation plantations, in order to preserve and conserve the natural heritage.
Casamilano collection is completely made in Italy, manufactured in the heart of Brianza, a territory that has always been synonymous with excellent production of Italian design, and it is the result of a long and skillful local and artisan tradition.