Have you been yet to the famous Camparino in Milan?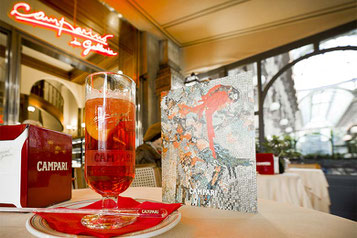 This year, the famous Aperitif Bar Camparino was remodelled to look sharper and elegant. It probably cannot just be called an aperitif bar, but has been transformed into a cutting-edge restaurant. The Camparino has a rich history. In 1915, Davide Campari opened Camparino as a "younger brother" to Caffè Campari in the Galleria Vittorio Emanuele in Milan. The Camparino rapidly became a Milanese institution, not only because the Aperitivo became a ritual here, but also because it attracted intellectuals and celebrities who came to discuss politics and culture over a Campari or two. 
How is Red used in Italian Decor?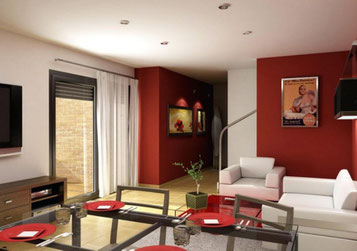 The color red in decorating is popular in Italy, in particular for dining and sitting rooms.
Valentino red, derived from the name of the famous Italian designer, Rosso Valentino is the bright shade that stands halfway between carmine, purple and bright red. 
Pompeian red with its name derived from the frescoes of Pompeii. Used today to paint the walls in and outside houses, it provides a unique warm ambiance and charisma. Both colors are included in the color scale of decorators in Italy. Popular Italian paint brands specialising in these unique colors, are SanMarco Paints and Rialto-Colors.
Italians have different decor color preferences based on their respective region. Those who live in the North prefer yellow (23%) for their kitchen and living room because they exude happiness and warmth, those who live in the center choose blue (10%) and green (9%), which give tranquility and serenity, in particular in the sleeping and living areas. In the South the blue of the sea predominates (12%), especially in places dedicated to relaxation, such as verandas and living rooms. On the other hand, we have red (12%), synonymous with passion (19%), capable of cheering up many of the interviewees (11%), who use it mainly in the living room. Italian women prefer to use red colors in gathering spaces such as the kitchen and the living room. This is based on a study by Sigma Coating research.
Depending on the shade of red you want to use, you can generally pair it with black, navy, shades of blue, grey, white, cream, pink, metalic and timber finishes.
If red painted rooms are not your thing, and you prefer to use red just for decor items, there are numerous quality Italian design firms offering stunning designs based on master workmanship, such as Kartell, Ferrovivo or  Montegrappa, and Emanuelemagini.