Recipe from 2 Michelin Star Chef Antonino Cannavacciuolo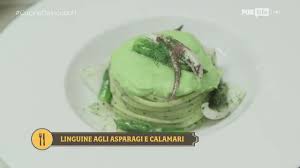 The great Antonino Cannavacciuolo who, in an episode of Cucine da Incubo, prepares the Linguine with squid and cream of asparagus.
Here the recipe:
Ingredients – 2 people:
160 gr Linguine
1 bunch of asparagus
1 Potato
300 gr Calamari
Chopped Parsley
Fish broth 
Olive Oil Extra Virgin
Garlic oil 
Salt
Cut the asparagus tips off and boil for a few minutes in boiling salted water. Cut the stems into slices, add the potato cut into thin slices and cook in a pan with a little water and on low heat. Once the vegetables are cooked, put them in a mixer and blend them together with a teaspoon of extra virgin olive oil until you get a soft and velvety cream. Put it aside.
Clean the squid and cut it into pieces. Put them in a hot pan and sauté them over high heat for a few moments.
Remove the squid and in the same pan, still boiling, pour a ladle of fish broth to flavor it with the flavor of freshly cooked squid and thicken it.
In the meantime, boil the linguine in plenty of salted water. Drain when al dente and add them to the pan together with the thickened fish stock and sauté. Season with a drizzle of extra virgin olive oil and a drizzle of garlic oil, sprinkle with the chopped parsley and mix. Finally add the boiled asparagus tips and the squid whisk together.
Put a pastry cutter in the center of the plate and insert the linguine. Spread the asparagus cream over the linguine.
Remove the pastry rings and complete the dish by placing a small piece of squid and a bit of asparagus on top of the asparagus cream . The linguine with asparagus and squid are ready to be served!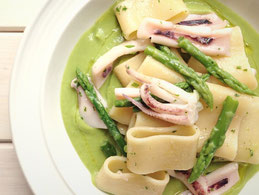 You can also try this recipe with a shorter type of pasta, but we prefer the linguine!