You'll love these tempting Interior objects from Puglia
The ultimate symbol of prosperity and luck - the Pumo
---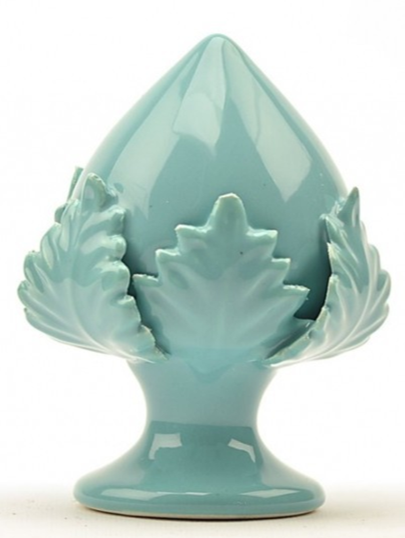 The Pumo is an Apulian handicraft product and looks like a bud or fruit, and is associated to the myth of the Roman divinity Pomona, patron of fruits, olive trees and vines. According to tradition, the Pumo is a symbol of prosperity and wealth, and is meant to bring good luck and protect your home from harm. With its baroque shape, it used to adorn the palazzi of the wealthy. But, you see even today, balconies of many houses adorned with Pumos.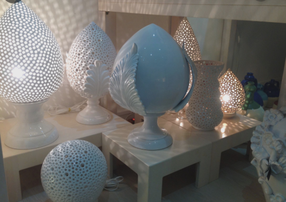 Nowadays, the Pumo is a popular souvenir from the Salento region, and comes in all sizes and colors; available in ceramic shops or online. Usually it has its rounded shape with a smooth surface, and wrapped in three leaves, sometimes even six leaves. Different versions include leaves in other colors, perforated or the Pumo covered in intrinsic patterns. Sometimes, you can also see a pine cone version.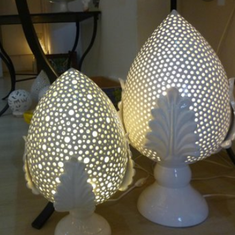 The design range of the Pumo now extends also to lighting and large garden sculptures made out of the traditional stone of the region.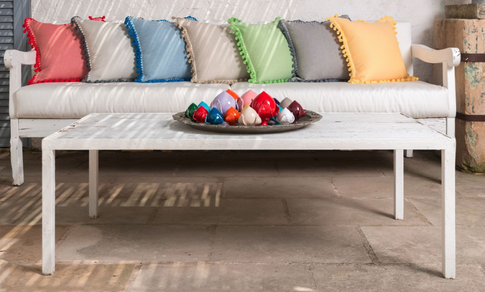 Pumo has become a stylish decorative object, and combined with local Salento region furnishings, transform every home into a stunning Salento-inspired residence. There are specific interior designers who have specialized in refurbishing residential homes, masseries hotels or holiday homes, such as Uru Lecce.
Don't forget about the terrific Ceramiche Schizzato
---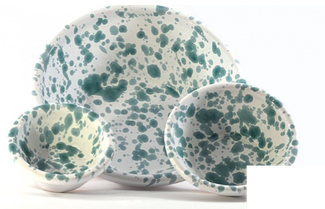 This style of ceramic designed is called "schizzato" or with a splattered effect which makes for light and bright colored design, oozing summer and are ideal décor for an outside garden lunch or dinner. These ceramics are handcrafted and glazed with non-toxic colors.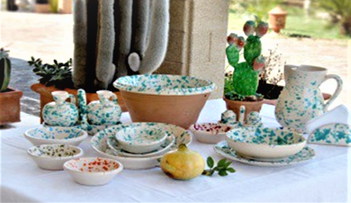 The history of ceramics dates back to ancient Greek times (the word Keramos is Greek for clay vase). The Salento region has some key ceramic art centres such as Cutrafiano,in the province of Lecce, and Grottaglie, in the province of Taranto. The craftmanship demonstrated in the design and production of ceramics here is extraordinary, and showcases the unique style and design of the Salento region.
This  type of decoration, is made with sprig of rosemary dipped in color and splashed on the ceramic.  Ateliers in Grottaglie include Enza Fasano Ceramiche, Nicola Fasano and many more.
---