Let's discover the exceptional Mediterranean diet from Puglia
The cuisine of Puglia leverages beautiful and fresh ingredients from both the land and the sea based on traditions nearly a thousand years old. The cuisine is simple, but tasty, using ingredients such as durum wheat, oil, vegetables, wine and fish. Dishes have names such as ciceri e tria, 'ncapriata, cazzmar, or cavattieddi with cecielli and mginuicchi, all in the local Salento dialect. This frugal cuisine is also well known as the "Mediterranean diet". This includes cheeses such as mozzarella, burrata, caciocavallo, provolone, pecorino, cacioricotta and mercia. Different type of dried beans are transformed into delicious purees, accompanied by freshly sautéed chicory and flavored with extra virgin olive, the liquid gold from Puglia. Olive oil from Puglia is world famous and represents a third of the overall  Italian olive oil production.
---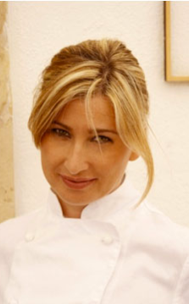 Where tradition meets innovation
In the amazing setting of Otranto, a few steps from the Aragona castle, tradition and innovation come together. From a long family experience of over thirty years, was born LaltroBaffo, the new challenge of Cristina Conte, who, along with her mother Pina and sister Carmen, creates a new way of interpreting the Salento's recipes.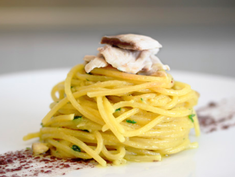 One of her innovative dishes: Carbonara ai ricci di mare. A Spaghetti carbonara with an emulsion of sea urchin eggs. You must try this marvelous dish!
---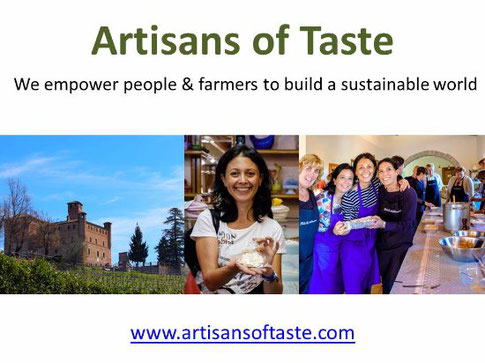 In 2008, Cinzia Rascazzo founded the Stile Mediterraneo Food & Lifestyle Academy with the goal to revitalize the way people eat, work and live. Stile Mediterraneo is made of a team of doctors and food experts, providing educational retreats to individuals and corporate clients who learn how to improve their energy, well-being, happiness by eating well and living well and by having an impact through what they do. 
---
Recipe - Orecchiette con le cime di rapa 
Ingredients:
300g fresh orecchiette pasta; 300g broccoli rape
Garlic;
Chilli
pepper; Salt
Anchovy fillets; Breadcrumbs (optional)
Immerse the cleaned broccoli rape in boiling salted water.
After 10 minutes, add the orecchiette pasta to the same water and cook together for a further 8-10 minutes.
Drain well. Separately, in a large frying pan, fry the fresh garlic with the chili pepper, a few anchovy fillets and if desired, plenty of breadcrumbs. When the garlic is golden, add the orecchiette pasta and broccoli rape and fry for a few minutes. Serve with a drizzle of olive oil.
Recipe from the book: Puglia in Cucina - Apulian cookery. 
---