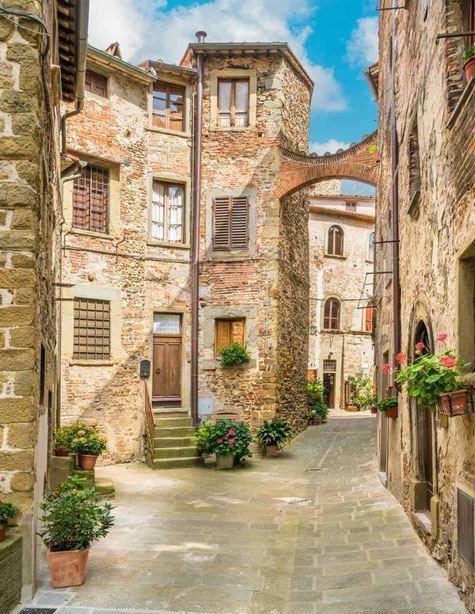 Anghiari is a hill town and municipality in the Province of Arezzo, Tuscany, Italy. Famous of The Battle of Anghiari which took place on 29 June 1440 between the Republic of Florence and the Duchy of Milan. The battle inspired a Leonardo da Vinci fresco designed for Florence's  Palazzo Vecchio known as the Lost Leonardo. Anghiari is a beautiful town with a charming Medieval feel; recently vote as the most beautiful town in Tuscany by CNN. Its city walls are still intact, and its city centre is guarded by an  impressive clock tower. The  artisan studios and antique shops vy for the attention of tourists and visitors. Already in ancient times, Anghiari 's inhabitants were famed artisans known for their skill with wood, textiles and ceramics; which is continuing to this day.
Anghiari, is also a member of " The Most Beautiful Villages of Italy" club, an official list of small towns that earn this title not only for their particular historic and artistic interest  obvious aesthetic features, but also for their perfectly preserved urban structure, with an excellent way of life. Anghiari has also earned the "Orange Flag "a quality brand for eco-tourism of the Italian Touring Club, aimed at small inland villages which distinguish themselves for the excellent offer and the welcoming atmosphere". In addition to all of these credentials,  Anghiari is also part of "Slow Town" network: small towns  "animated by people curious of Time Regained, where the man is still the protagonist of the slow, healthy succession of the seasons"; municipalities "respectful of citizens' health and genuine products as well as good food, rich in fascinating craft traditions, valuable masterpieces, squares, theaters, shops, cafes, restaurants, places of the spirit and unspoiled landscapes. "
The economy of Anghiari today is based on agriculture, tourism and craftsmanship tradition: in particular, restoration of antique furniture; with the Anghiari's School of Art being the only one in Italy that specialises in the restoration of furniture and the other disciplines of woodwork. , weaving and goldsmith. An example for the outstanding craftsmanship from Anghiari is world renown Weavery and Fabrics Business ,  the Busatti's Tessitori.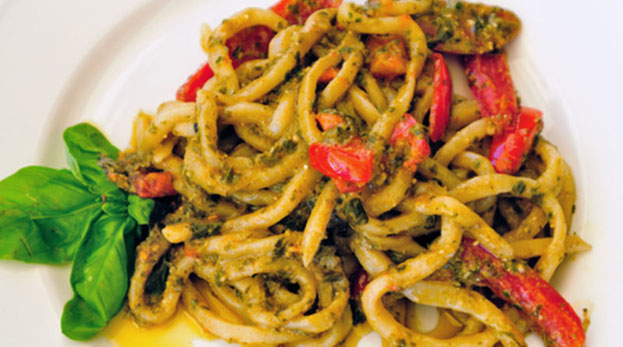 Valtiberina's mountains and woods which surround Anghiari are the source of delicious produce, among them truffles and porcini mushrooms. The famous Torta Mantovana (one of the town's typical desserts, made by the village's women for over a hundred years) is a must-try. Other specialities include the delicious Pappardelle with Wild Boar ragout -Pappardelle con cinghiale or the typical house-made Bringoli .
 There are many authentic places to eat the traditional cuisine of Anghiari/Arezzo. Here a few suggestions in Anghiari itself.
Ristorante La Nena, centrally located offering a number of typical homemade Tuscan dishes such as the Parppadelle with Wild Boar Ragout or their famous Pici or the Gnocchi with truffles!
Il feudo del Vicario, is very well-known restaurant in the historical center of Anghiari. It features typical and seasonal kitchen with a medieval setting. Here you can also indulge on the true  "chianina"  meat  for  a true "fiorentina" steak.
The Locanda al Castello di Sorci is the Inn of the Castle that was the house of the famous condottiere Baldaccio Bruni and his wife Annalena Malatesta. With fixed menu it's possible to taste the range of their traditional Anghiari Cuisine, such as the Tagliatelle al ragù o porcini;  Cinghiale alla cacciatora or Lampredotto alla fiorentina.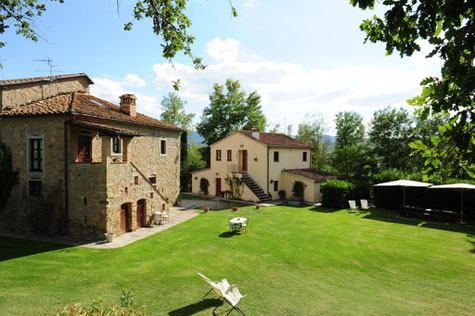 There are plenty of B&B's and Agriturismo places to stay around Anghiari such as  Agriturismo Il Sasso, a 19th century stone farmhouse is surrounded by Tuscan hills, 30 km from Arezzo. It features an outdoor pool with hot tub and sun terrace, overlooking the valley of Sovara river. Agriturismo Il Sasso's traditional rooms and apartments come with wooden and wrought-iron furnishings and a private bathroom. Or the B&B Locanda Del Viandante; located 10 km from Anghiari, Locanda Del Viandante B&B offers a restaurant and and accommodation with wood-beamed ceilings. Wi-Fi is free in public areas, and there is also a garden.
Rooms at the Viandante are all en suite and come with countryside views, a desk and tiled floors.