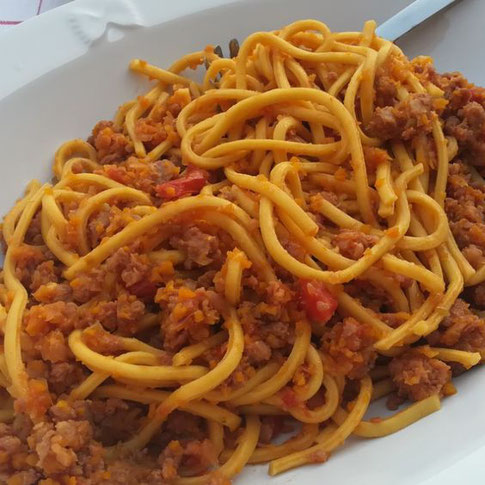 Bigoi con pestöm, are a first course typical of the rural tradition around Brescia. Based on fresh pasta and salami paste, it's a delicious recipe that's easy to make. The special fresh salumi of  pestöm is used, and traditionally with Bigoi (made with a chitarra pasta cutter).
The history of bigoi or bigoli was born in the times of Most Serene Republic of Venice, when a pasta maker from Padua, in 1604, Said Abundance, asked the Municipality for a patent to register a machine of his invention. With this device he managed to produce different types of pasta, but the people sanctioned one in particular, the current bigoli machine. So it was that two centuries later almost all the families in the north-east of Italy had this machine at home, later renamed bigolaro. It was perfect for making long pasta.
A tasty dish that has its rural origins in the countryside of the Franciacorta region, using only local ingredients.
Ingredients:
For the tagliolini: Eggs; Flour; For the sauce: salami paste (pestöm); Sage powder; Parmesan; Cream; Extra virgin olive oil
salt.
Preparation:
The tagliolini- consider making a dough with one egg for every pound of flour, then let it rest for about an hour. With the pasta machine, prepare some sheets of about 35 cm long, and then proceed to make the tagliolini with the guitar. The sauce - meanwhile, in a pan, cook the salami paste (pestöm) with a drizzle of oil, browning it well and adding some sage powder. Cook the tagliolini in salted water for a couple of minutes. Combine the tagliolini with our pestom and add the milk to the Parmesan. It is a sauce made with cream, sage powder and parmesan. After mixing everything well, serve and decorate as desired with sage powder.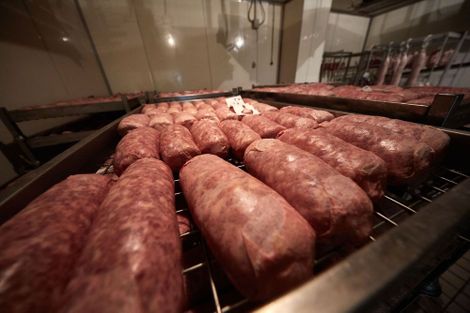 Pestöm is a unique type of salame, produced by Salumificio Franciacorta. In these premises salamelle are created which have sweetness  but only with medium-fat filling of pork verzini. Traditionally they produce Lucanica, a pork burger, lard and a more than traditional pestöm, salami which makes us think of the succulent dish of «Bigoi» or short pasta.